We have been covering quite a few mealtime ideas lately just because of the resources coming our way. But Disney FamilyFun Magazine might be a neat little "extra" to tuck into your Mother's Day gift. It looks like it will be a great little resource for families. Who doesn't want to learn how to cut back on their food budgets? And what mother doesn't appreciate easy meal ideas? So here's what Disney is telling us about their new issue:
Disney FamilyFun understands that the evening meal can be the best part of a family's day – and the busiest. That's why we've created the special collector's issue, Dinnertime!, which hits newsstands today, Tuesday, May 4.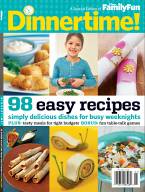 Filled with over 98 easy recipes, these pages gather the best dinner ideas from our 19 years of publication. Every recipe is
family-tested and approved. Dinnertime! makes family meals simple and stress-free with chapters offering specific solutions to common dinner dilemmas, including:
* Cheap eats: savory $$ savers
* 30-minute meals
* Picky eater pleasers
* Break out of your rut: rethinking old faves
* Dishes that teach kids cooking skills
And because family meals aren't just about the food, Dinnertime! also serves up a generous helping of fun: conversation starter games, dinner-hour crafts, fun at the table, and more!
Dinnertime! is available for purchase on newsstands and at www.familyfun.com/dinnertime.