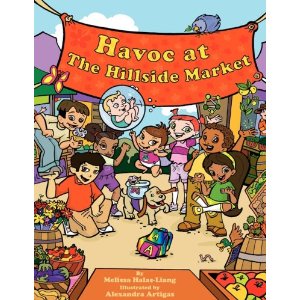 Havoc at The Hillside Market is a SuperKids book written by Melissa Halas-Liang and illustrated by Alexandra Artigas. This book is a softcover book, so keep it up from the children until they know how to properly treat it!
This SuperKids book is one of two that have been published. It contains bright, colorful and engaging illustrations. The story line takes the Super Crew to the local farmers market where they encounter an adventure that they did not quite count on while they shopped for their fruit and vegetables.
All of our children liked this book, as a matter of fact one of the older girls had to read it several times the first time she read it to the younger children!
One thing I noticed about the book is that you really have to pay attention to the illustrations as some of the pages engage the reader like a comic book or comic strip would and that some pages the words do not contain the full story. So the illustrations and reading the words are important in becoming fully engaged with the story, at least from this adult's perspective. I don't think the children really noticed to be honest. They did ask about the rest of the family though!