Fashionable Media Review Policy: The featured product for this review was provided to me, at no cost, by the manufacturer or representing PR agency for the sole purpose of product testing. Opinions expressed are my own and are not influenced by monetary compensation.
We received three little String Dolls form The Original String Doll Collection at Kamibashi.com What I missed when I received the information was that they are keychains! I thought they were a doll doll, but each one is a doll on a keychain. They can clip to backpacks, wallets, purses and duffle bags.
The String Doll Gang is very unique. They are handmade in Thailand with yarn and have a little bell that jingles. Guess to allow anyone to hear you when you are coming! They also include a motivating phrase on its tag. The ones we received are:
Coral – Coral helps you dive deeper to explore what's beneath the surface.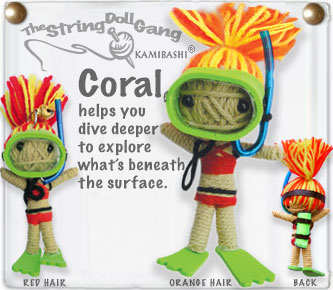 Ollie – Ollie gives you the basic technique to overcome obstacles.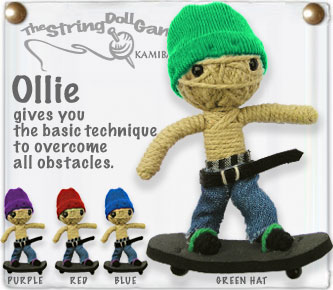 Seamus the Sheep – Seamus the Sheep does the counting for you so you can sleep.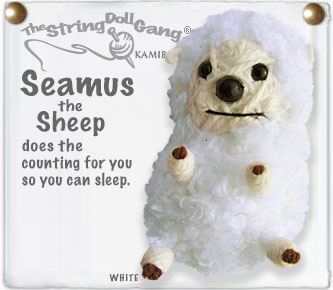 Kamibashi claims that these little verses give the person "power", I prefer to use the term motivating or inspiring phrases. I don't believe objects can give you power.
The String Doll Gang are cute in a different sort of way and some are cuter than others. Even my children made comments about how silly or ugly some of them are. My children all have chosen ones that they like – Lola the librarian because our daughter loves to read, the younger girls liked Princess and Jumbo Twinkle, our older girls like both Marie Antoinette and Frida too. Our boys liked Spartacus and Chuck the hockey player but there were others that they were naming too, I just could not keep up with them as they were spouting off each one!
While the tag says that these are not for children under 6, my two year old is busy playing with them beside me as I write this review! He isn't putting them in his mouth, he is playing with them like they are his Fisher Price people. But that doesn't mean I recommend them for younger children. I am just sharing that he took them from my side and started playing with them! He is under my watchful eye, along with all the other children gathered around me right now.
Update: I just took The String Doll Gang from Noah because he started to take one of Coral's flipper off!

The only thing that I cannot report on in my haste to post this review is how well they hold up to hanging from a purse or backpack! I forgot about that aspect of my review, sorry, but at least you know how it holds up under a two-year-old's man handling.
What I like about the company Kamibashi is that they care and they give back to charity. Here is a list of the organizations they give back to:
America's Wetland Foundation
International Fund for Animal Welfare (IFAW)
Please Note: We will be offering a giveaway of from The String Doll Gang in the upcoming weeks, so keep a watch out for it on Monday, June 14th!
Meet The String Doll Gang®, a band of kooky characters that has been growing steadily since the initial 16 members made their debut right here at Kamibashi in May, 2005. Handmade in Thailand, each String Doll has his or her own special power that is always positive and helpful. They are fun for the whole family and make the perfect gift for any occasion – we like to call them $10 pieces of art!
Contains: One String Doll with a double-sided fabric tag and lobster claw keyring (pictured)
The String Doll Gang® is loved by all ages but have small parts – please don't buy for kids under the age of 8
Size: 2″ to 3″
Price: $10.00 each