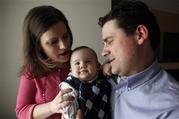 A Couple's Journey from Embryo Mix-Up to Miracle Baby -How a Laboratory Mistake Separated a Mother and Child before Birth
In February 2009, Paul and Shannon Morell were ready to expand their family with the help of In Vitro Fertilization (IVF), but a laboratory error changed their life forever. Misconception: One Couple's Journey From Embryo Mix-Up to Miracle Baby (Howard Books/Simon & Schuster, May 4, 2010) tells the true story of how the Morell's embryo was implanted into another woman's womb, their relationship with the unintended surrogate mother and the journey that would reunite them with their baby boy.
"There is probably nothing more private and personal for a couple than making decisions about starting and growing their family. So, sharing the details of our life has been difficult," said Shannon Morell. "But throughout our ordeal we realized that there were many misconceptions-about our own in vitro, from family and friends, from other couples considering the process and from the public-that we felt compelled to tell our story through an unfiltered lens. It is our hope and prayer that in telling our story many misconceptions can be cleared away, leaving nothing but truth."
This extraordinary story made national news in September 2009 after the initial error was discovered and both families were interviewed on NBC's Today Show. Misconception reveals the Morell's dramatic story, from fears of an abortion during the early days by the surrogate family-as yet unidentified and unknown to the Morells at that point-to the first face-to-face meeting between the Morells and the birth parents, and the doctor's appointments and sonograms along the way, and finally, to the emotional handoff of their son at the hospital.
Embryo mix-ups are extremely rare, but the consequences can be far-reaching. High profiles stories of such mix-ups include: a Japanese woman in her 20s who was found to be pregnant in October 2009 but received an ultrasound that indicated the child was likely from another woman's fertilized egg; and a British white couple who became the parents of black twins in 2002 after a
mistake by a fertility clinic during in-vitro fertilization. The Morells story highlights this type of medical mistake, one they hope will be the very last of its kind.
One of the most beautiful lessons shared by Misconception is the respect both families had for each other and the respect they had for life. The final sentences of the book pay tribute to the selfless act of the birth mother. In Misconception, Shannon Morell tells the story of how love for a child can overcome everything.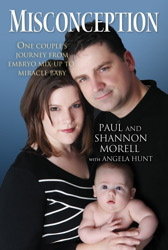 Misconception: One Couple's Journey from Embryo Mix-Up to Miracle Baby
by Paul Morell and Shannon Morell
Howard Books, May 2010
Hardcover, 256 pages, $25.00
ISBN-10: 1439193614
ISBN-13: 9781439193617