Fashionable Media Review Policy: The featured product for this review was provided to me, at no cost, by the manufacturer or representing PR agency for the sole purpose of product testing. Opinions expressed are my own and are not influenced by monetary compensation.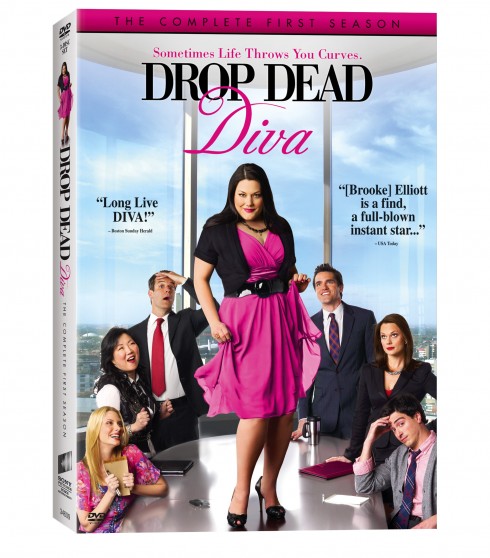 I hesitated to watch the Drop Dead Diva DVD series just because we haven't watch much TV in the past few years. We usually watch movies and old TV shows on videos, however the storyline of Drop Dead Diva intrigued me. First, I will say that it isn't really family-friendly and has some language in it that I personally do not agree with, as well as some other issues that I won't go into. But, I will say that this show deals with many subjects that I think most of us can relate to. I cried when I watched the episodes, as it dealt with grief and some serious issues, but I also laughed at the characters antics and as they bonded, butted heads and in general entertained me.
Season one opens with the story of how two characters Deb and Jane both die. Sad I know, yet the producers even managed to make that humorous, if you can believe it! Then due to a series of events one being Deb arriving in "heaven" where she doesn't want to be because she is too young and wanted to go back to earth, Deb gets one over on her "angel" and zaps her soul back to earth to inhabit a recently vacated body, who just happens to be Jane. Jane (played by Brooke Elliot), the main character in Drop Dead Diva, is a successful lawyer at a busy law firm. Deb was a fashion model to a "t". The differences between Jane and Deb are quite stunning and obvious, as this series deals with Deb adjusting to life in the body of a smart, witty lawyer in a plus size body. Deb still has her memories, but the brain and body of Jane. How's that for a storyline? You can only imagine, right?!
I would have to say that Drop Dead Diva is definitely a show for geared towards the female audience for the most part, especially since the main character is a female. But I remember years ago when Alley McBeal was airing that it garnered a male audience too. So who am I to say who will get the most entertainment out of this show?
Drop Dead Diva had its first season last year, which ended in an unexpected cliffhanger. Season one will be available on DVD on June 1st, as well as the Drop Dead Diva CD. The first show of Season two premieres on June 6th, which is just a week away! It will be airing on Lifetime. I know I am looking forward to the first episode to find out what happens to Jane after the Season one finale threw me for a loop. I just don't know if I will be able to watch it when it airs! 🙁
I am hoping to catch an extra "feature" being offered to bloggers next week and will hopefully post about it then too, so stay tuned!
Oh and I just found out that you can watch full episodes of Drop Diva online! So check out Season one before Season two airs! Just got to http://www.mylifetime.com/shows/drop-dead-diva/video