Fashionable Media Review Policy: The featured product for this review was provided to me, at no cost, by the manufacturer or representing PR agency for the sole purpose of product testing. Opinions expressed are my own and are not influenced by monetary compensation.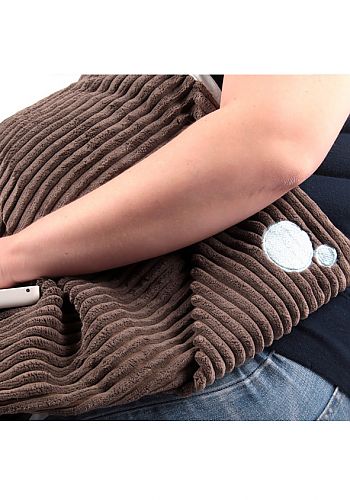 It's been my privilege to review a new product (it does have to be returned though!) on the market called The Belly Blanket Luxe made by RadiaShield and one of a few Belly Armor products now on the market. Belly Armor are specially designed products for the expectant mother and her baby. Each of their products purpose is to protect the unborn child from harmful every day radiation.
Radiation? You might question. We live a technological world, which we all love and appreciate. But do we really know the long term affects of every day use of cell phones/PDAs, laptops/computers, power lines/cell phone towers, MP3 players, wireless networks and many other electronic devices? If you answer that honestly, you will say no we don't.
If you are like me, you are skeptical because more studies need to be done and there is so many conflicting views. Yet if you are also health conscious and trying to do what is right for your family then you will want to research further what is being said about every day exposure to radiation. It is up to us as consumers to decide what is right for our families.
That is why RadiaShield saw the need for those with concerns over the exposure to radiation, especially during pregnancy and are providing a solution to the problem in their Belly Armor. Belly Armor products are made with RadiaShield fabric and the highest quality textiles. I can attest to the fact that The Belly Blanket Luxe is very soft and comfortable laying in my lap. It is make of a cotton micro-fleece that give it a wonderfully soft feel to it. It is edged in satin, with the backing being the RadiaShield fabric, which shields 99.999% of incoming radiation (60dB). It may also be used during your baby's newborn days too. Haven't you been found in front of the computer feeding or holding your baby? Me too! The blanket is about the size of a large receiving blanket (30″ x 35″). It is machine washable in cold water with like colors, but it is to be air dried and no bleach. The Belly Blanket Luxe retails for $109.00 and comes in great gift packaging, which is completely re-used or made of recycled materials – from the box to the packaging materials to the paper they print on.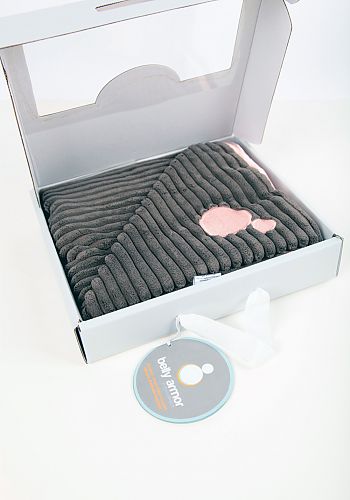 I really like the product. I like the concept, the look and the feel of it. I feel assured that my baby is being protected and even more so after the little test they recommend that you do a:
Cell Phone Test
Note the level of cell phone signal you have.
Wrap your cell phone in a Belly Armor product.
After 30 seconds check your cell phone signal again – you'll notice it has gone down.
When we did this, we lost all the bars to our cell phone signal. They were gone. Only the little green tower left. That impressed me, I must say.
Belly Armor also offers The Belly Tee ($59.00), The Belly Blanket Chic ($69.00) and plan to come out with The Belly Band and The Belly Tank.

Special Promo Code for You
Belly Armor has created a promo code for our readership: "bambino" for 15% off – it is good until the end of July and is case-sensitive.
Resources:

http://www.cellphone-health.com/blog/2009/10/who-study-shows-cell-phone-radiation.html

http://www.who.int/mediacentre/factsheets/fs193/en/
http://emf.mercola.com/sites/emf/archive/2010/02/16/how-the-media-lies-to-you-about-cell-phones.aspx

http://gadgetwise.blogs.nytimes.com/2010/06/01/anti-radiation-products-with-some-science-in-them/
http://www.fibre2fashion.com/news/garment-apparel-news/apparel-technical-textile/usa/newsdetails.aspx?news_id=85973