Since I have reviewed Le Baby Hair Gel this year, I thought the following information about celebrity kids and celebrity parents matching hair dos would be of interest to all of you. The following article shares how you can create celebrity "dos" on yourself and your own child by using Le Baby Hair Gel.
The latest celebrity must-have is a "mini-me" with a matching 'do. Recently, dozens of celebrities are sharing their hairstyles with their children. Helping mom's and dad's across the country follow the trend is Le Baby, a hair gel free of fragrances, sulfates and all harsh chemicals. The hair gel is perfect to safely tame your child's locks so you can rock matching hairstyles any time of the year!
Rock Out!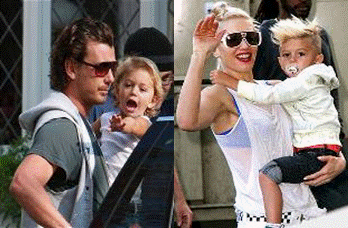 Kingston Rossdale changes his hairstyles to match those of his rocker-parents, Gwen Stefani and Gavin Rossdale. Whether his locks are tamed or teased they are always in style!
Get the Look: For suave hair like his father's, comb damp hair back and smooth with Le Baby; scrunch the bottom to work through the curls. For a rocker-chic look similar to Gwen's, work Le Baby into dry hair at the roots and tease upward, forming the desired height and shape.

Wavy and Relaxed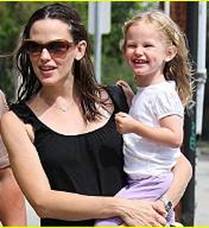 Jennifer Garner and her mini-me Violet Affleck share tamed, wavy tresses that are perfect for the summer.
Get the Look: Work Le Baby into towel-dried damp hair then proceed to scrunch hair for a tousled, wavy effect.
Straight and Sleek
Katie Holmes and Suri Cruise favor matching, straight hairstyles that are naturally convenient for their traveling lifestyle.
Get the Look: If you already have straight hair, Le Baby is perfect for maintaining its sleek style all day long. Use a small amount of Le Baby on dry hair to keep the frizz and fly-aways at bay anywhere you go.

Shaggy-chic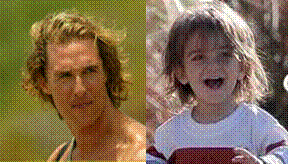 Matthew McConaughey and his wild child Levi sport shaggy 'dos that are perfect for a day at the beach!
Get the Look: Walk the line between stylishly messy and messy with the help of Le Baby. Work the gel into shaggy tresses after leaving the water and let air dry in the sun.
The 411 on Le Baby Hair Gel: Price: $9.95
Hypoallergenic, No harsh chemicals
No parabens, No sulfates
Not tested on animals, Fragrance-free
Thickens baby-fine hair, Tames frizzies & fly-aways
Moisturizes, Softly holds curls
Keeps hairstyles in place, Never leaves hair stiff or sticky
So whatever your preference or style is Le Baby Hair Gel just might be the thing to get your hair to do what you want it to. By the way, I still have lots of Le Baby left, but only tend to use it in the children's hair if it is a tangled mess or I am styling it. For more information, read my review again or visit www.LeBabyInc.com