Article by Disney FamilyFun Magazine
It's almost time to celebrate our nation's birth! Here are the latest July 4 ideas from Disney FamilyFun magazine – all new this year and in our June/July issue.
* Confetti Launcher: Fireworks happen only after dark, but this craft creates a pop of color any time of day. Kids pull back on the string to release a shower of tissue paper confetti, then gather it up and refill the launcher again…and again…and again.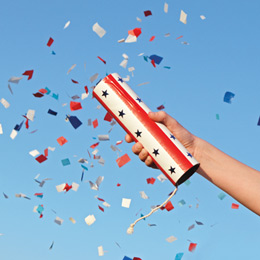 * Hand-some Tee: With a design fashioned entirely from palm-and-finger prints, this tee will be the talk of eagle-eyed revelers.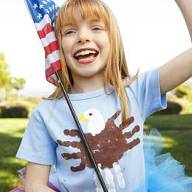 * Wig and Tutu in One: Powdered wigs are so 1776. Celebrate the Fourth in 2010 sporting a crazy red, white, and blue pompadour. Or, if you prefer, wear the tulle creation as a tutu.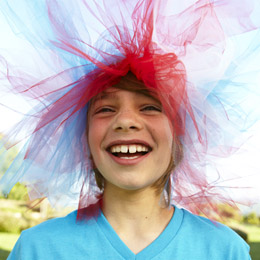 * Spirited Bike Spinner: Old Glory won't be the only thing blowing in the breeze this Fourth. Made from a strategically snipped and bent plastic bottle wrapped in tape, this colorful bike accessory twirls in the air as your kids pedal.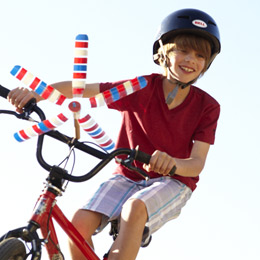 * A Patri-botic Centerpiece: Do U need a GR8 helper 4 yours picnic on the 4th? Well, this is one can-do robot. His recycled-can head holds a hair-raising array of utensils, and a clear container belly keeps cookies safe from eager little hands until it's time for dessert.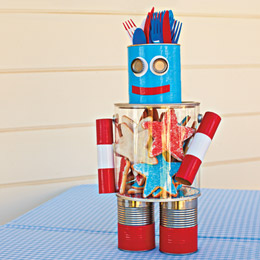 * A Star-spangled Welcome: This bunting-inspired paper wreath will look as snappy as a salute on your front door.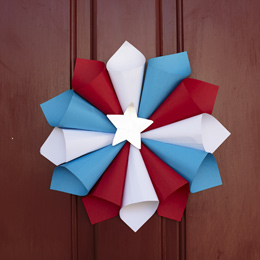 Follow @familyfun on Twitter and become a fan of Disney FamilyFun on Facebook!