Ok, as time winds down to 5-7 plus weeks before baby arrives, I find myself taking stock of things we need to replace (or need more of) for this new baby. One thing is receiving blankets. Several years ago I found an ultra soft receiving blanket, at a garage sale no less and in mint condition too. It is still very soft and in decent condition, but the tag no longer says the brand – it's completely worn off. It is a cute receiving blanket with bears bordering the sides in blue, pink and yellow colors on a white background. As if describing it will help you all help me with the brand?! So as I was thinking about baby stuff this morning, I thought I would check to see what brands of receiving blankets you all have found to be the softest, most long lasting ones and that you'd highly recommend.
I am wondering if Carter's or an organic brand might baby brands to consider. The thing is I want something that have been truly tried and tested by moms. I don't want to waste time or money on brands that will not meet the softness test or wear out fast with frequent washings. The one below is one that I came across while searching for receiving blankets, it's an American Baby Company Organic Embroidered Receiving Blanket
that I have never heard of before.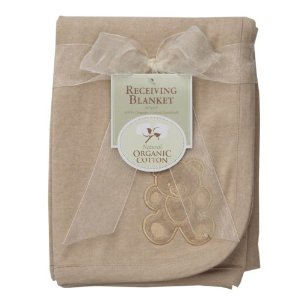 I love using baby receiving blankets for light nursing covers in the summertime, as a light blanket to keep the chill off of baby and even as burp cloths. Believe it or not. They have more coverage than a little itty bitty piece of cloth – we all know how much a baby can spit up at times! Especially if they are a hard to burp baby.
So please send me your recommendations for your softest, favorite brand of baby receiving blankets! Remember the clock is ticking as I feel about ready to burst. ;-o