CouponMom.com Helps Over 2.5 Million Members Save at the Grocery Store Every Day
Sign Up, it's Free!
Coupon Mom Stephanie Nelson says a family of four can save over $6000 in one calendar year on her system.
Americans are hungry for bargains these days, and one woman has developed the ultimate strategy for enjoying a feast of savings. Taking the nation by storm, with appearances ranging from The Oprah Winfrey Show to the Today Show, Stephanie Nelson has shown millions how to save thousands of dollars by becoming savvy coupon clippers-without sacrificing nutrition or quality.
Nelson, founder of CouponMom.com, says if a family knows some simple strategies, they can save over $6,000 in one calendar year. Just this week, the site released new tutorial videos showing step by step directions explaining this system. "I've been saving at least $100 a week on groceries since my first son was born 17 years ago," Nelson says. "That's enough to pay for a child to go to college and that's real money," said Nelson. Consumers are taking advantage of the recession coupon craze, as over $800 million more dollars were saved with coupons in 2009 than in 2008, according to a Valassis marketing survey. Grocery coupon redemption increased by 27% in 2009 and continues to increase in 2010.
"Consumers are focusing more on planning their trips to the grocery store to save money," said Nelson, "Being able to go to the web to find the best grocery deals at their stores, print coupons, load electronic coupons on their store cards, and even use their cell phone to access their shopping list helps save money without taking a lot of time."
Printable grocery coupons are the fastest-growing source of coupons as busy shoppers seek "on-demand" savings. In 2009, internet distribution of coupons increased by 92% and consumer redemption of these coupons is up over 360%. CouponMom.com members alone printed over $40 million worth of free grocery coupons in 2009. "We will most certainly see an increase in the number of printable coupons available in 2010," said Nelson. The website helps shoppers save by teaching "Strategic Shopping."
CouponMom.com offers free membership, tutorials, and the "Grocery Deals by State" section to make saving simple by listing the best grocery deals at thousands of supermarkets across the country. These lists combine sale prices with store promotions and coupons, helping any shopper achieve dramatic savings. Shoppers can even use their cell phone in the store to find grocery deals and have coupons electronically loaded on their store loyalty card. CouponMom.com has a mobile version to help shoppers create their shopping lists on the go.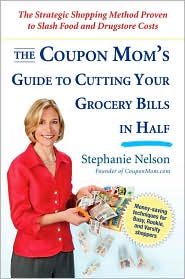 Nelson's new book, The Coupon Mom's Guide to Cutting Your Grocery Bills in Half, (Published by Avery, a member of Penguin Group, USA), on the New York Times Bestseller List for four weeks, is more proof that consumers are hungry for new ways to save. It is a relevant and timely resource for families nationwide.
"Saving money doesn't have to be complicated," says Nelson. "We outline my Strategic Shopping Method and show consumers how easy it is to save at every type of store, in every department within the grocery store, and for every type of shopper."
Nelson suggests watching the new tutorials on the site to easily learn the system of saving with coupons and combining them with in-store savings.
"It is very realistic for a family of four to be able to save $500 a month," says Nelson, "At least $100 a week with grocery sales/coupons and $25 a week with other coupons (restaurant, clothes, online shopping, travel, bookstores, bowling, etc)…that's $6,000 a year!"
CouponMom.com is the country's leading grocery deals site with over 2.5 million members who take advantage of this service. Here
are some beginner's tips to follow:
1.) Plan your meals and shopping lists around featured sale items. Use your store's weekly sales ad flier to plan your menus for the week. Write your shopping list around the items and brands that are on sale.
2.) Use grocery coupons, ideally when the item is on sale. Buy the Sunday newspaper–75 percent of grocery coupons come from the newspaper.
3.) Go online–grocery stores often have their best deals and printable coupons on their websites. Many stores offer electronic coupons that go directly on your store discount card.
4.) Stock up on common items when they hit their lowest price.
5.) Be flexible about brands and stores. Buy the brand that's on sale with a coupon, or get the store brand if it's less expensive.
These are just a few of the tips you can find, for more go to www.CouponMom.com