Silikids announces the debut of a new siliskin color, info for you below…and Silikids bottles are tough enough for a tiger! An Australian distributor shared a special tiger's tale and we were asked to share it with all of you! The story follows below.
There is a very special little boy named Kinwah who just turned one and still loves his Silikids bottle in the afternoon. Adorable!
Photos of Kinwah below as well as in Kinwah's story.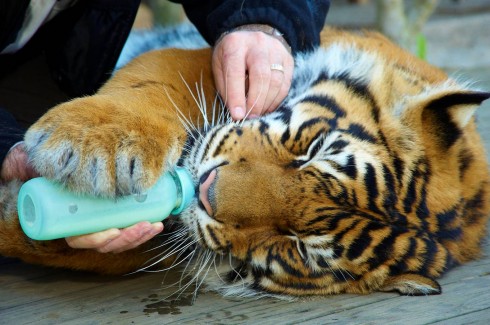 Kinwah lives at the Mogo Zoo in the owner's backyard and was rescued and has been hand raised ever since. He will most likely move into the zoo park full time when he is older.
Here is a recent story about Kinwah:

http://www.abc.net.au/news/video/2010/05/21/2906437.htm

Mogo Zoo
222 Tomakin Road Mogo NSW 2536
Phone: 02 4474 4930
Email: info@mogozoo.com.au
Web: www.mogozoo.com.au
Winner – Best Regional Attraction – 2002, 2003, 2005, 2006 & 2007 South Coast Awards for Excellence in Tourism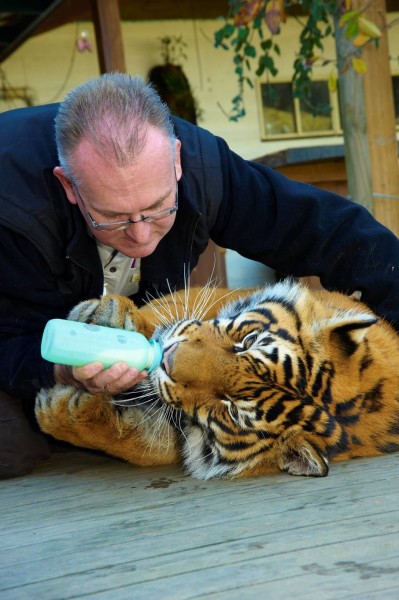 Siliskin debuts red "hot" siliskins!
Los Angeles-based Silikids®, manufacturer of an innovative line of silicone-based children's products expands their popular siliskins collection of safe, silicone bottle sleeves with the introduction of stylish red siliskins.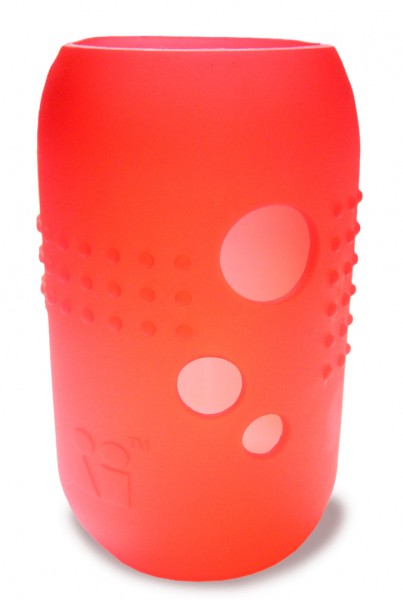 Silikids siliskins come in universal sizes separate from a bottle. They are designed to fit a variety of large and small glass baby bottles and slide on and off for easy cleaning. These safe, silicone sleeves help prevent breakage of glass baby bottles. The translucent silicone also allows you to see the measurements and liquid in the bottle. Siliskins are hypo allergenic, have no open pores to harbor bacteria, are dishwasher and microwave safe and can be boiled to sterilize.
Siliskins are available in the new red color in two sizes, universal wideneck small and universal standard small.
The Universal wideneck small siliskin fits the following bottles:
Born Free 5oz glass bottle
Nuk Wideneck 120ml glass bottle
12oz Kleen Kanteen.
The universal standard small siliskin will fit:
Dr. Browns 3.5oz glass bottle
Evenflo 4oz glass bottle
Momo 4oz glass bottle
Nuture Pure 4oz glass bottle
Pigeon 4oz glass bottle
Lamby 4oz glass bottle
Recommended retail for either size red siliskin is $6.95. They can be purchased online at www.silikids.com or at specialty juvenile product stores nationwide along with other siliskin products in assorted colors and sizes.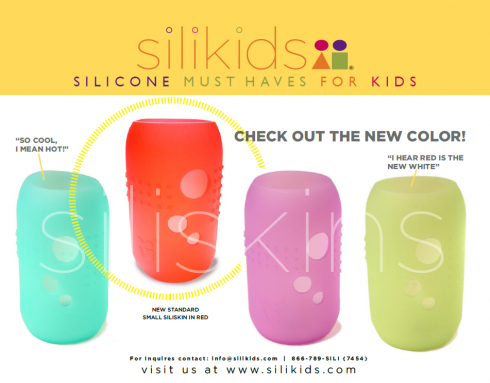 About Silikids®
Los Angeles-based Silikids was founded in 2006 by two moms, Stacey Feeley and Giuliana Schwab. Silikids is the first mom-founded brand focused on creating products that are hypoallergenic, germ, mold and toxin-free and made entirely out of silicone. The Silikids collection of high quality stylish and innovative items includes Siliskins, Siliskin Bottles, Silibibs, Silipads, Siliskin Glasses and the Siliskin To-Go Glass (coming soon). For more information, visit www.silikids.com or call 1-866-789-7454 (SILI).