The Fashionable Bambino Interview with Dr. Gregg Alexander about Summer Colds
July 13, 2010
TFB: How can parents recognize and treat a summer cold versus allergies?
Dr. Alexander: The symptoms of summer colds and allergies can be quite similar. With both, for instance, you'll often have a runny nose. One thing that makes them different is that kids are usually more miserable with a summer cold: there is often fever, aches and pains, and a cough that is usually more severe.
With allergies you typically see a child with a runny nose, sneezing, and itchy, watery eyes. There may also be an associated cough. If there's any question about whether your child has a cold or allergies than it's a good time to visit your pediatrician who can confirm the diagnosis.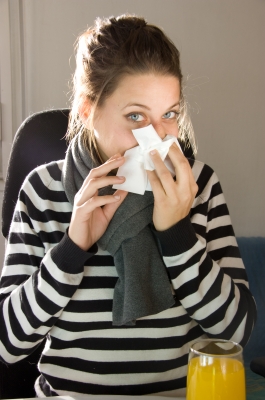 Image: Yaron Jeroen van Oostrom / FreeDigitalPhotos.net
As far as treating a summer cold, you want to treat it as you would any cold. Provide supportive care, giving your child lots of fluids and ensure he or she rests. Help them with the aches and pains and the fever sometimes associated with a summer cold. Children's Advil® has done a nice job helping parents understand how to relieve summer colds by providing information on their website, www.ChildrensAdvilSolutions.com.
If your child has symptoms that are different from those of a normal cold it's important to have your child evaluated by a doctor.
TFB: What are considered the most effective ways to treat a fever?

Dr. Alexander: There are a couple of different ways to treat a fever. First, you should keep your child cool. It's very important not to over dress him or her or to use too many blankets at night. The old rumor that you can sweat out a fever isn't true.
If your child is extremely miserable with a fever and you want to provide some relief you have a couple of choices. One is children's acetaminophen and one is children's ibuprofen.
I personally think that Children's Advil®, which contains the active ingredient ibuprofen, is often more effective from both the relief point of view and also from the convenience point of view. It has a faster time to relief and it lasts longer — 6 to 8 hours.
Often time with colds, children seem to be most miserable at night, making it difficult for them to sleep. So being able to give them some relief during the night that lasts longer – 6 to 8 hours versus four hours – gets you a much bigger "bang for your buck" as far as valuable rest time for kids.

TFB: What can parents give a child with a summer cold who can't sleep at night?

Dr. Alexander: As a pediatrician what I often recommend to the parents of a child who has a cold and is congested, is to provide supportive care. This would include raising the child's head at night with some extra pillows, running a cool-mist humidifier in the bedroom, and making sure the child is very well hydrated.
If the child has a fever or aches and pains associated with the cold, I recommend Children's Advil® to help them get some rest which helps the healing process.
If the symptoms are absolutely making the child miserable, there are some other over-the-counter products for children over 2 years of age that a parent might want to consider such as Children's Dimetapp® or Children's Robitussin®. If you have questions it's best to talk to your doctor about what he or she would recommend.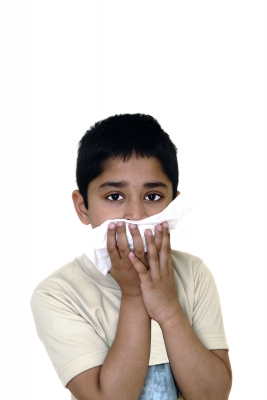 Image: Arvind Balaraman / FreeDigitalPhotos.net
You can find advice on the web, but you have to be careful about the quality of that information. Children's Advil® has created a reliable resource and made it easy for parents to learn more about summer colds and how to treat them at www.ChildrensAdvilSolutions.com.
TFB: What are the different types of pediatric pain medications currently available and not affected by the recent recall?

Dr. Alexander: Children's Advil® is not part of the recent recall and is currently available nationwide.
The best option to find out exactly which products were recalled is to visit the U.S. Food and Drug Administration's website, http://www.fda.gov/.

TFB: What is the difference between pediatric acetaminophen and pediatric ibuprofen? Is one really better or more effective than the other?

Dr. Alexander: Pediatric acetaminophen and pediatric ibuprofen are both products that can treat fever and pain. Pediatric ibuprofen is a little bit more effective as far as I'm concerned because it has a faster onset of action and it also lasts longer. Ibuprofen lasts 6 to 8 hours and acetaminophen last approximately 4 hours.
There are some safety concerns with acetaminophen as well. It is one of the most overdosed drugs and it has very serious consequences when it comes to kidney and liver issues if there is an overdose.
If you have questions it's always best to talk to your doctor about what he or she would recommend.
Dr. Alexander is an Ohio-based pediatrician and father of two children. He serves as medical director of the Madison County/London (Ohio) City Health Department and directs of the "Pediatric Office of the Future" exhibit for the American Academy of Pediatrics. He is a member of the Professional Advisory Council for ModernMedicine.com and regularly contributes to HIStalkPractice.com, a healthcare IT blog. Dr. Alexander is with Madison Pediatrics in London, OH. The practice Web site is http://madisonpediatric.com.