Fashionable Media Review Policy: The featured product for this review was provided to me, at no cost, by the manufacturer or representing PR agency for the sole purpose of product testing. Opinions expressed are my own and are not influenced by monetary compensation.
We are always open to trying new ways of cleaning our home or our clothing. The Robby Wash Ball is "a new laundry detergent for U.S. consumers concerned about their budget as well as the environment – the Robby Wash ultra he detergent. The hypoallergenic laundry detergent ball contains 10 ounces of macro-molecule laundry detergent which cleans for up to 12 months – replacing 75 lbs. of traditional laundry detergent and saving consumers more than $100 over 200 washes."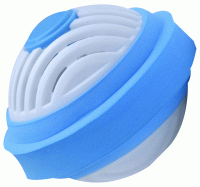 The top Robby Wash detergent benefits include:
•Superior cleaning ability when compared to traditional laundry detergent – Robby Wash he detergent is independently tested, proven and guaranteed.
•Saves money by eliminating the need to buy additional laundry detergent for up to one year – saving each consumer more than $100 per year.
•Easy to use – simply place the Robby Wash he detergent in the washer – no additional laundry detergents will ever be needed.
•Saves the environment by eliminating use of more than 75 lbs. of traditional laundry detergent each year.
•Contains safe hypoallergenic laundry detergent formulas and can be used as baby laundry detergent.
•Meets the strict environmental compliance requirements of Europe (more stringent than U.S.) and contains no phosphates or chlorine. Has received safety certifications from REACH and RoHS. Each ball is made of durable ABS materials.
•Economical refills allow each Robby Wash ball to last two to three years.
•The blue Robby Wash ball can be used in either cold water or hot water while maintaining the softness and colors of washed items.
•The fuchsia Robby Ball is formulated to specifically clean colored laundry items and is for use in cool water temperatures.
•A free stain stick is included with each Robby Wash ball.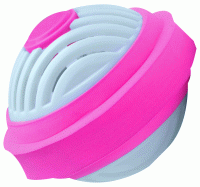 The Robby Wash Laundry Ball pack (blue or fuschia) is $32.95 and will last up to 12 months. Visit http://www.oransi.com/robby_wash_high_efficiency_wash_ball_s/39.htm for more information or to purchase Robby Wash.


About Oransi
Founded in 2009 by a team of executives and engineers with decades of experience in the air quality and home cleaning products industries, Oransi provides the best new green cleaning products from around the world to U.S. consumers – including HEPA air purifiers, ionic air purifiers for rooms and refrigerators, and green laundry products.
Green and High Efficiency Laundry Detergent:
http://www.oransi.com/robby_wash_he_high_efficiency_laundry_detergent_s/37.htm
The top 11 benefits of Robby Wash are listed here:
http://www.oransi.com/why_robby_wash_hypoallergenic_baby_laundry_detergent_s/38.htm
And if folks are interested, they can purchase the balls online here:
http://www.oransi.com/robby_wash_high_efficiency_wash_ball_s/39.htm

Our Review
We found that the Robby Ball was an effective laundry detergent. It cleaned our clothes well and made them smell very nice. The stain stick took stains out just fine. We thought it was amazing that this little ball could do as much laundry as it does.
I always hate having to say something negative, but we did have to stop using the Robby Ball due to a couple of issues our second oldest experienced. No one else had the same symptoms so we are leaning towards her wheat sensitivity and the Robby Ball. The one symptom went away as soon as we went back to our regular detergent, so we know it was the Robby Ball affecting her. 🙁 But as I said, the rest of us were just fine.
We'd need more time to test how much it would save us over the course of the year, in comparison to Oransi's findings, but overall, we were satisfied with the Robby Ball's performance as an alternative laundry detergent. It is always great to see how companies are going green and coming up with efficient ways to save consumers money – that's always a good thing and those kinds of companies are few and far between.