Here are some back-to-school style tips for Mom from Carol Tuttle…
5 Tips to Avoid the "Mommy Fashion Slump!"
It is common for new moms to unknowingly slip into a fashion slump that can unfortunately last for years and even decades. If you fall in to this slump you might wake up 20 years later when the kids are all grown and ask yourself, "what happened to my style?" "Where did my sense of fashion go?" with no clue how to find it or get it going again!

These 5 Tips will help new moms and moms-to-be avoid a fashion slump that they could get lost in for decades!
1. Maintain a real hair "style." Mom's tend to grow their hair long so they can just pull it back in a ponytail, or go short with a wash and wear attitude. A "real hairstyle" requires at least a 10-15 minute investment every few days on your wash days, and the use of styling and finishing products and an occasional styling tool like a round brush, blow-dryer, flat iron or curling iron! The best way to find a cute style is to pick up several hairstyle magazines at your local bookstore, look for a model that resembles you, has a hairstyle you like, clip the picture out and take it with you to your stylist. If you don't know how to "style" your new do, ask your stylist to educate you and write down the steps and products in the order to use them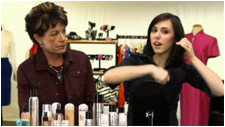 2. Keep wearing jewelry. With babies and little children it is easy to let the jewelry go! With little hands grabbing and the need to simplify your life, giving up jewelry is an easy way to fall in to a fashion slump. Another problem is not knowing what to wear and what looks and feels best on you. Too many women purchase jewelry solely based on what is in style without considering how it feels on their body. How a piece feels is the number #1 criteria in selecting jewelry. If you like it light make sure it feels light. If you prefer some substance and chunk, make sure it feels substantial and chunky, if you like it motionless, make sure it doesn't move on your body! A favorite necklace even with a tank top and skinny jeans will make you feel like yourself again!
3. Avoid the black trap. It is easy to default to buying a lot of black clothes. They are easy to find and most women believe that everyone can wear it! The truth is most women feel heavy and weighed down by the color black and it actually makes you look more tired. As a mother of little ones, you are mostly likely a bit tired and don't need to add to that look! Make yourself buy clothes with color. You will feel more upbeat and alive and your closet will be a lot more fun to play with!
2 Tips for Mom's-To-Be
1. Give yourself a "Pamper Day." Pregnancy can certainly take its toll on a woman's sense of fashion. Throughout your pregnancy make it a point to keep a few stylish items in your pregnancy wardrobe. Especially in your 3rd trimester, when you are going to feel real big and frumpy. Before you have the baby give yourself a "preggy pamper day" – get your hair done, a manicure and pedicure, and buy yourself a new top that you love. This is going to give you the boost you need to feel better in your bigger body the last several weeks of your pregnancy.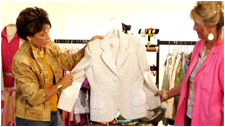 2. Get a few "Between Outfits!" Once the baby comes, don't get discouraged as your body still needs time to "shrink" back down! It may not be the same shape it was before the baby, but that's okay, you are now a mom! Let go of your teeny-bopper idea of a body and accept your adult shape. If you are not fitting into your before pregnancy wardrobe, give yourself some time to get there. Rather than keep wearing your maternity clothes, spend $150 on a few quality, fashionable items that fit you- your between clothes! Nobody wants to put their maternity clothes on when the baby is in your arms and not your belly!
When you look good, you feel good, when you feel good you are a better mom. A woman's self-esteem cannot be separated from her feelings and attitude about her body and appearance. And a mother can only affect her child's positive self-esteem as much as she has one! If your self-esteem is suffering, your child's self-esteem will suffer. Give yourself the style and fashion support you need to add to a healthy self-esteem as a woman and be the best mom you can be!
About Carol Tuttle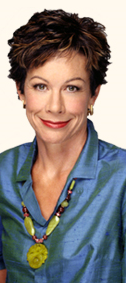 Carol Tuttle, style therapist, best-selling author and founder of Dressing Your Truth, a makeover system that works for everyone, regardless of age, size or shape!
Carol's philosophy is that women should discover their own personal style, instead of blindly following fashion trends or advice from
so-called magazine "experts." She helps women discover their personality "type," which gives insightful information about what colors, silhouettes, and styles will look best on them. After discovering their type, women can take online seminars at home that cover everything from hairstyles to jewelry. Her innovative system has helped women all over the country transform into the vibrant, stylish people they were hiding under the wrong clothes.
Check out her latest best-selling book, "Dressing Your Truth." Please feel free to check out DressingYourTruth.com for more information as well.