á La Modish to Unveil Debut Collection at AmericasMart Atlanta
á La Modish announces the launch of its first collection of boutique children's wear at AmericasMart in Atlanta. The brand is geared toward fashion-savvy mothers with young daughters.
"How a mother dresses her child is a reflection of her," says Andrea Corbett, CEO of á La Modish. "With that in mind, the collection was inspired by happiness and a love for vintage styling." The line was born when Andrea had her first daughter and found it difficult to find clothes that were classic yet still fun. "I didn't want to dress my daughter in skulls and crossbones, but I wanted her to be wearing something that wasn't main stream," said Andrea.
However, the driving force of á La Modish goes beyond producing beautiful clothing. It serves as a creative outlet for a mother who could not operate a sewing machine just two years ago. "This is an opportunity for me to show my children that reaching for your dreams is more than just a kitschy saying screen printed on a tee shirt," she says. The venture also provides a means to give back to others through its "New with Tags" program. The program is designed to provide mothers in need the gift of giving to their children. á La Modish donates new clothing to children who might not otherwise have the opportunity to wear something new–with tags.
About á La Modish
Á La Modish is a children's clothing company designed to provide little ones with classically stylish wear that still maintains a high level of fun and originality. To learn more about á La Modish, visit www.aLaModish.com
The Sweet Sabrina Dress:
I thought the model was just as adorable as the dress if not more so!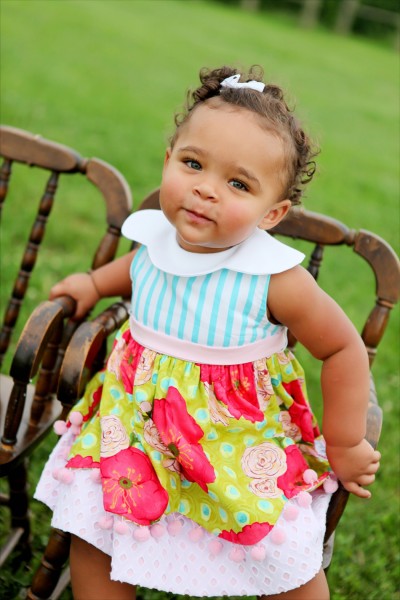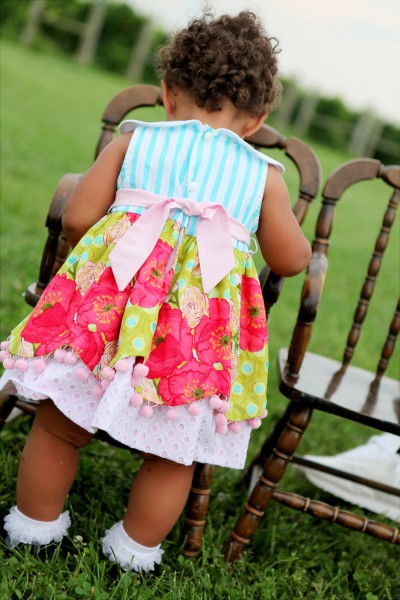 The Kate Dress:
This darling little dress will make baby look her best!