Congratulations to Jaime and Mickey!!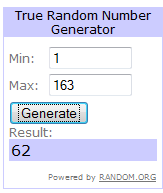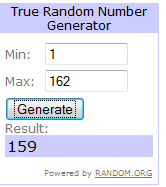 Comment #62 and #159 chosen by Random.org
Thank you to everyone who entered and a huge thanks to our friends at Keen Distribution for sponsoring this fabulous giveaway and giving our readers the opportunity to win a brand new baby chair!!!
---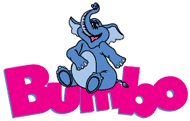 Bumbo Baby Seat
The world famous Bumbo Baby Seat.
Your baby's first seat.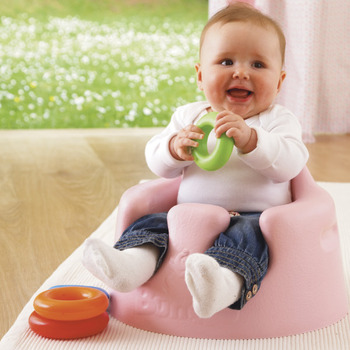 The award winning Bumbo Baby Seat is cleverly designed to support baby in comfort, allowing them to sit up independently. Made from a single piece of latex-free, low-density and lightweight foam, the Bumbo Seat provides a snug and comfortable environment for baby to sit up for feedings, play time or quality time with the family. The Bumbo Baby Seat requires no straps or fasteners to hold babies in place, and helps them transition into sitting. It also makes the perfect baby shower gift!
Key features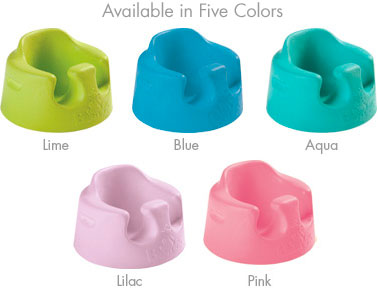 * Available in blue, lilac, aqua (coming soon), pink and lime green
* Recommended for babies 3-14 months
* Requires no straps or fasteners
* Durable, hygenic and easy to clean
* Portable, light weight and versatile
Warning – Prevent Falls: Never use on any elevated surface
Retail Value $39.99
Bumbo is offering 2 winners a chance to win a Bumbo in the color of their choice. This contest is open to only the USA.
http://keendistribution.com/bumbo.php
http://www.facebook.com/bumbousa
Soooo…….you wanna win a Baby Bumbo Chair for your little one?
TO ENTER:
Leave a comment telling me which color Bumbo you'd choose.
Extra Optional Entries: (Leave 1 comment for each extra entry.)
1 Entry: Follow @fashionablebaby on Twitter (include your Twitter name in comment!)
1 Entry: Follow Bumbo on Twitter.
1 Entry: (per day) Tweet about this contest. Leave 1 comment for each tweet with the link to tweet.
GIVEAWAY! Enter to win a Baby Bumbo Chair! @fashionablebaby http://tiny.cc/baby-bumbo-chair-giveaway Please RT!
1 Entry: Become a fan of The Fashionable Bambino on Facebook
3 Entries for: Become a fan of Bumbo on Facebook
1 Entry: Subscribe To The Fashionable Bambino's RSS Feed
5 Entries: Blog about this contest and link back to this post and Bumbo.
1 Entry: For every comment you leave anywhere on the blog besides here, you may add one extra link for each comment. Be sure to leave an entry comment on this post saying you posted your additional comments!
(Note: You must leave 1 comment per entry. Extra entries will not be counted unless you leave a comment for each one.)
Sometimes our spam catcher is a little over zealous and will snag your comments if you leave multiple comments very quickly, one after another. I recommend waiting a minute between each comment. If the spam catcher gets you anyway, don't worry! Your comments have still been submitted, they are just being held for moderation. I approve them as quickly as possible. If you are very concerned about this issue, you may email me and let me know what the problem is.
Details
Contest runs from August 23rd-September 5th. Last chance to enter is September 5th at 11:59pm ET. One winner will be contacted on or before September 30th, 2010 and asked for full name, along with their mailing address, etc. Bumbo will be sending two winners a Baby Bumbo Seat in the color of their choice for your little one! If no response is given within 48 hours, a different winner will be chosen, so please be sure to check your email. Must be 18 or older to enter. Contest open to only the USA!