Renowned Hair Accessory Company Adored By Hollywood Offers The Original And First Of Their Kind Accessories For Boys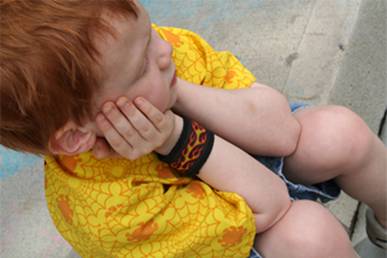 Ladybugs & Lullabies has become a household name in Hollywood since setting the trend in the world of girl's hair accessories with celebrity moms including Jennifer Garner, Jessica Alba, Brooke Shields and Marcia Cross snatching up the adorable accessories for their little girls. But girls aren't the only ones who want to have fun, boys do, too, and Ladybugs & Lullabies acknowledges that with their ultra cool and edgy Cool Cuffs line.
Cool Cuffs from Ladybugs & Lullabies are the first accessories of their kind for little boys. These luxurious, thick cotton cuffs are made from 100% soft cotton with high quality woven ribbons featuring intricate detailing and a rugged look. No satin or frills for these boys, that's for girls.
They also feature a snap closure to keep the cuff in place, while still being easy to wear and easy to remove.
Ring of Fire Cuff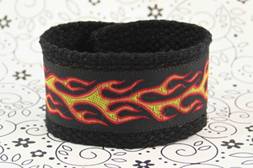 Cool Cuffs come in a variety of designs including Blue Flame, Celtic Weave, Barbed Wire, Circle Of Skulls, Ring Of Fire, Camouflage, Dragons and Spaceships. There's something for every personality.
Circle of Skulls Cuff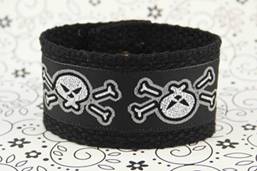 Cool Cuffs retail for $8 each and are available for purchase in the U.S. and Canada at www.LadybugsandLullabies.ca.