Fashionable Media Review Policy: The featured product for this review was provided to me, at no cost, by the manufacturer or representing PR agency for the sole purpose of product testing. Opinions expressed are my own and are not influenced by monetary compensation.
About the Kikou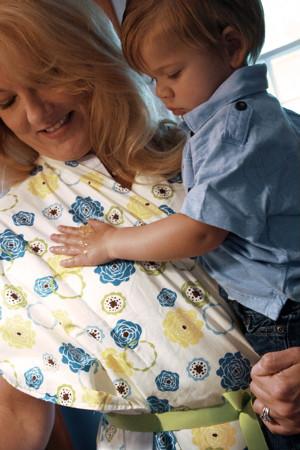 Kikou–a unique and fashionable clothing cover-up to protect moms clothing from spit-up, drool and other yucky stuff!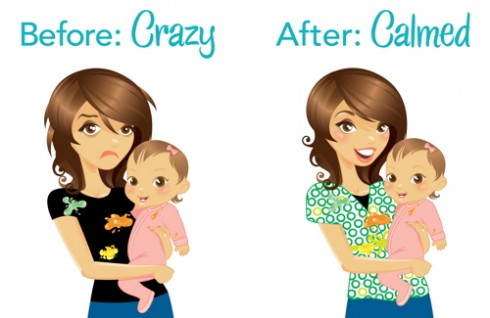 The Kikou (Japanese for armor and pronounced kee-koo) is a stylish, machine-washable wrap that protects your clothing, your modesty (makes a great nursing cover), and your rep.
Featuring an absorbent cotton outer layer and a waterproof lining with a grosgrain tie around the waist, the Kikou's stylish fit and hip, modern prints are perfect for the busy, modern mom.
Other features include:
* Simple wrap design for easy-on/easy-off access that won't interfere with hair and makeup
* Full coverage protection ensuring even backs, necks, and upper arms are adequately covered
* Waterproof to prevent leak-through: our laminated polyester waterproof lining is CPSIA-certified as PVC, Lead, Phthalate, Latex, BPA and Formaldehyde-free
* Durable to last through multiple children
* Machine washable for ease of care
* Velcro coin at the chest for quick and easy, one-hand closure
* Convenient pocket for cell phone, pacifier, tissues, etc
* Makes a great nursing cover, too: prevents having to get the nursing cover off quickly and burp cloth on your shoulder even faster
* Generous 2-yard ribbon tie, so one size fits all
* Made in the USA
Comes in a variety of styles: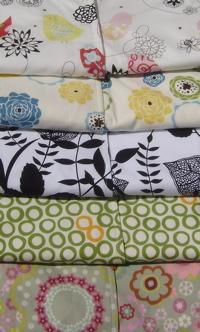 Our Review
The Kikou is very well made and washes up nicely. It definitely is a one size fits all. My 10-year-old daughter can wear it, as well as I can. It does its job of covering clothing from getting stained from spit up. It doesn't fall off your shoulder like a burp cloth does, nor does spit up still get on your clothing because it provides better coverage than a burp cloth does.
This is a very versatile product as I can see how it could be used as a nursing cover, although I have not tried it yet since I just read that suggestion today! Ok, I just tried it and it works for nursing too. The Kikou is made of fabric heavy enough that it won't slip off while breastfeeding, but light enough that it will still work as a summer nursing cover and not be too warm. Although, I can see how the lining may cause a nursing mother to perspire more in the summer heat.
Other suggestions of use are:
* During messy arts & craft time with the kids…no more being scared of paints and glue!
* At bath time…go ahead and splash!
* Making dinner…extra sauce!
* Breakfast in the car…keep that coffee off your Kors!
I wish the Kikou had been around when I had my first child who spit up the worst of all our children.
For more information visit Calm the Crazy's website, makers of this unique and fashionable clothing cover-up.