Fashion for babies goes beyond cute sweaters and booties, a baby's style should start on their bums! gDiapers is an eco-friendly diaper, more info below, and the company is introducing new colors!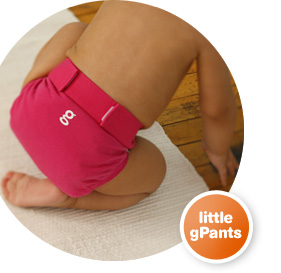 The new line of adorable gDiapers little gpants include these colors:
goddess pink
gooseberry purple
grubby knees gray
galactic blue
guppy green
golly molly pink
great orange
*** Also gorgeous grateful red — perfect for the holidays that are not so far away anymore!
Available at gDiapers.com, leading internet retailers, and select baby retailers nationwide (including diapers.com), mid-September, 2010.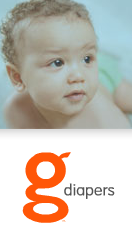 About gDiapers
The best of cloth and disposable in one earth-friendly hybrid diaper. The gDiapers system consists of cotton, reusable little gPants, and either 100% biodegradable gRefills or washable gCloth inserts.
· Most eco-friendly diaper system on the market. gRefills are the only certified 100% biodegradable, plastic-free and elemental chlorine diaper.
· The original hybrid diaper system. Cloth or 100% biodegradable disposable/compostable option.
· More convenient and less washing than other cloth options.
· Only diaper system that allows your baby's precious skin to breathe. Less rash.
· Fun colors and prints. Cute. Great value. Loved by moms.
Less Rash. Less washing. Less bulk. (Editor's Note: Gotta love that Moms!)
Designed for a non-bulky fit, gDiapers little gPants are made of breathable material just like sports clothing, so your baby stays dry and comfortable and is far less likely to get diaper rash. Each pair of little gPants comes with one snap-in liner made of highly breathable, waterproof material. The snap-in liner means less washing, and faster and easier changes. 2-packs of snap-in liners are sold separately, so you can buy them as you need them.
Fashion and Function on one cute bum.
Available in loads of fab colors and prints. Collect them all. Gentle stretch around the waist and legs. Soft velcro tabs close around the back away from little hands for a great fit without the bulk.