This is a Sponsored Post written by me on behalf of Boudreaux's Butt Paste. All opinions are 100% mine.

Is your little one prone to diaper rash? Are you looking for a soothing way to treat diaper rash that is all natural? Over the years our family has tried a number of diaper rash creams, but some of them seem to cause our little ones to scream as if they were in pain when certain creams were applied to their bottoms. However, a year or so ago my husband came home with Boudreaux's Butt Paste. Boudreaux's Butt Paste is one of the best diaper creams that our family has used. It doesn't seem to sting or agitate our little ones like other brands have done.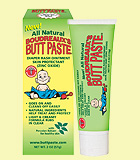 Boudreaux's Butt Paste® was specifically formulated by a pharmacist with direction from a respected pediatrician to provide effective diaper rash care, so it is obviously pediatrician recommended. It also goes on and cleans off easily, is available in convenient sizes and flip top cap (the tubes) and convenient sizes of 1oz, 2oz, 3oz and 4oz tubes, 16oz jar, so the smaller sizes are handy for traveling. And one of the best things, it has a pleasant scent.
Ingredients include: 16% Zinc Oxide (active ingredient), Aloe Vera, Beeswax, Carmauba Wax, Castor Oil, Citric Acid, Hydrogenated Castor Oil and Peruvian Balsam.
Boudreaux's Butt Paste has been featured on:
– Oprah Show
– Tonight Show
– Today Show
– People Magazine
– ESPN
– While You Were Out TLC
Finally, the maker's of Boudreaux's Butt Paste are offering a free sample: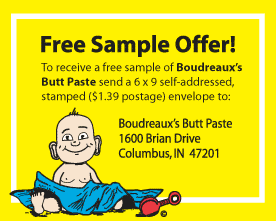 We highly recommend Boudreaux's Butt Paste for diaper rash.