Fashionable Media Review Policy: The featured product for this review was provided to me, at no cost, by the manufacturer or representing PR agency for the sole purpose of product testing. Opinions expressed are my own and are not influenced by monetary compensation.
About the DRIA cover
The DRIA (Discrete Reliable Infant Accessory) Cover is a beautiful fashion poncho for pregnant moms, that doubles as a versatile baby cover.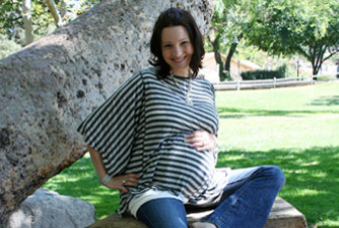 Worn during pregnancy, DRIA Cover is a great fashion accessory, making any mom-to-be feel pretty.
Once your little one arrives, DRIA Cover serves as a chic nursing cover, providing complete coverage. The neck opening also allows for quick nursing views and discrete bra adjustments. Unlike ANY car seat cover, the DRIA Cover neck hole allows moms to safely grip the carrying handle and peek at their sleeping baby. The silky, 4-way stretch material fits snugly over all car seats and strollers.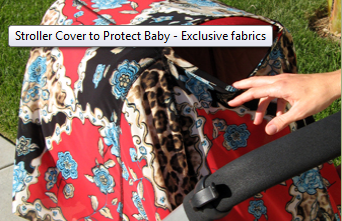 The DRIA Cover material is not only beautiful but light weight, allowing for temperature control, air movement and subtle sunlight to enter. Its silky blend allows for the poncho to be easily tucked into a purse or diaper bag. Simply toss the cover over the stroller and tie the corners to fit.

My Review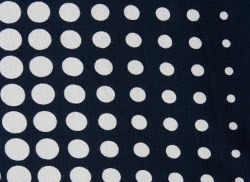 I received the Sydney style DRIA cover ($59.95) shown above to review. I don't know about you but I have tried many things as a cover for discreet nursing and many of them have been lacking. A blanket tends to slip off or as baby gets older he or she kicks or pulls it off….usually at the wrong moment! I have had a nursing cover that snaps around the neck, but it seemed to be too small for the amount of coverage I was looking for as it seemed if baby or I moved it was no longer providing the coverage I desired.
Then along comes DRIA. I really like the fact that it is long and flowing providing ample coverage for even plus size moms. I also like that it is lightweight making it comfortable to nurse in the warm weather. Its fabric is soft and really does seem to feel flowing while wearing it, if that is a way to describe it – you'll just have to try it yourself to experience it! 😉 Yet it provides enough weight to provide warmth to an infant as well.
The DRIA cover needs to be washed in the gentle cycle or hand washed with like colors. No bleach and tumbled dry on low or no heat.
I look forward to using the DRIA as a discrete, reliable nursing cover.
Editor's note: Now that I am on the move more, I have come to love the DRIA because it enables me to nurse my son in his sling in public with the DRIA providing the perfect discreet nursing cover. I have attended educational workshops more easily because of the DRIA.
For more information and styles, visit www.DriaCover.com Prices vary according to style.