I know there never seems to be an end to cute, fashionable diaper bags. The thing is many of the new ones that they are making that can double up as a purse, laptop or briefcase make me get a serious case of the "gimmees".
This fashionable diaper bag seems like the deluxe version and I wish there was a picture of the inside! Here are the specs as listed on Baby Brown's website: (I just love the waterproof exterior and organizing pockets!)
Reese Li Black Baby Blue Lexington Baby Bag $140.00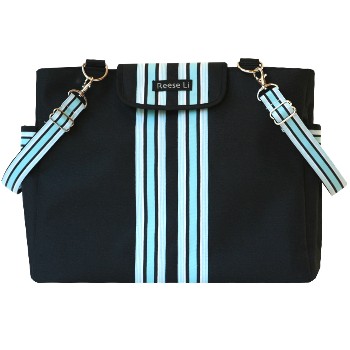 This new bag has exterior surfaces that are weatherproof & wipeable. Its interior is waterproof and get this…has 12 organizing pockets! A mother's dream! A place for everything and everything in its place – to be able to find things when we need it! It is large as it will fit a laptop, enabling professional mothers to go from baby to boardroom with fashionable ease.
• measures 14" width x 11.5" tall x 5.5" depth
• bag converts from shoulder tote to stroller bag
• adjustable length straps
• 12 organizing pockets include:
– 2 outside side pockets
– 1 outside back pocket
– 6 inside bottle pockets
– 1 inside large zippered pocket
– 1 cellphone pocket
– 1 pen pocket
• flap closure with magnetic snap
• zippered dirty duds pouch & changing pad
• inside key clip
• hard bottom with nickel feet
• signature pacifier dangler

Duo Deluxe Diaper Bag $80.00
For more fashionable diaper bags visit www.babybrowns.com