Fashionable Media Review Policy: The featured product for this review was provided to me, at no cost, by the manufacturer or representing PR agency for the sole purpose of product testing. Opinions expressed are my own and are not influenced by monetary compensation.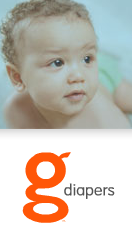 About gDiapers
The first new choice in diapers in more than 40 years, gDiapers is the best of cloth and disposable in one earth-friendly diaper. gDiapers provides parents with a diapering solution that is good for babies, and the planet. Parents have the flexibility of a disposable diaper with a 100% biodegradable gRefill or they can opt for reusability of super soft and trim-fitting gCloth. gDiapers are plastic-free, elemental chlorine free, latex free, and perfume free.
gDiapers 100% biodegradable gRefills can be home composted, tossed, or flushed. They are the only certified 100% biodegradable diaper and break down in about 3 months, unlike disposables which can take up to 500 years. gDiapers are cradle to cradle certified which means that everything that goes into making a biodegradable refill gets reabsorbed by the planet in a neutral or helpful way.
This video shows the break down:
Check out gDiapers YouTube channel for more gDiaper demonstrations.
gDiapers are a two-part system. The gRefill or gCloth fits into a pair of colorful little gPants. When the gRefill or gCloth is soiled simply remove, replace, and re-use the same Little gPant

My Review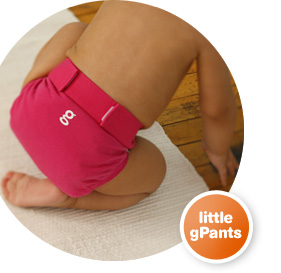 I really like the gDiapers. We received three gPants (black/gray, striped and go fish blue) and a package of disposable liners to review. I found that they require changing more often than disposable diapers, but no more than my pre-fold cloth diapers. Once the liners have been on for a while they bunch up from being between baby's legs, so if baby happens to pee or have a bowel movement the pee or stool may get on the gPant. However, the solution to this was to use two liners, especially at night. Yes, that makes diapering more expensive with the disposable liners, but that is why I plan to purchase the cloth liners so I can reuse them!
The gPant fits my new son perfectly (he weighed 9 lbs 10 oz. and is now over 11 lbs) and looks so cute on his little bottom! We moms love little bottoms and covering them with cute diapers and clothing, don't we? 😉
The gPants and plastic liners wash well. One of the liners did stain with a bowel movement, but clothing or cloth diapers may have stained too, so that did not bother me. The gPants do not require washing every diaper change, with frequent changings, which is a step up from the previous cloth diaper covers I used on my 2 year old son. I find the liners do protect and prevent the gPants from frequent washings. If you try them, just remember to change your baby often as you would with cloth diapers.
Due to our already taxed plumbing system (small house, big family), I did not even attempt to go through the flushing process with the disposable liners.
I like that gDiapers fit, are not bulky and are an eco-friendly solution to using regular disposable diapers.