Carter's Baby Costume, Baby Girls Kitty Halloween Costume
We actually don't "do" Halloween, but our children love dressing up and we love seeing them in cute baby clothes and dress up outfits. Many of you will love these cute Carter's baby Halloween costumes though!
The day our little costume arrived is such a sweet memory that I think our whole family will remember for a long time. I wish you could have seen and heard the little voices that day. One of my daughters helped dress up our two year old son and planned to scare their other siblings with the presence of a little tiger. I wish my camera battery hadn't been on on charge or I would have taken pictures and video taped it! They went downstairs growling the tiger growl….to have the other children respond with awww and let him chase them around the house while they pretended to be afraid! 🙂
A friend took our family photos on Wednesday afternoon at the Botanical Gardens and we took the tiger costume with us so or our two year old could have his picture taken in it. The picture of him dressed up as a tiger ended up being the only photo we took of him by himself since he got wet playing with a couple other siblings at the fountain, but I didn't care because he looked so cute!
The tiger costume is well made and is washable. It isn't a cheap costume that will fall apart on the first washing – sing praises moms! 😉 The costume is size 18 months, so either my two year old is on the smaller size or the costume runs a little big. Either way, we still love it/him!
We were also sent the Black Glow-in-the Dark Bones 2-Piece Pj's to review and they fit my two year old perfectly. I call them x-ray pajamas and mean to tell the children that this is what you see under a x-ray. My children loved that they glow in the dark and my two year old said "Me glow! Me glow!" 🙂 The x-ray pajamas are adorable. We got 12 months but they fit our two tear old so they run a little big too.
Carter's Baby Halloween Costume collection features a variety of microfleece extra comfy body suits of furry creatures for baby. These include: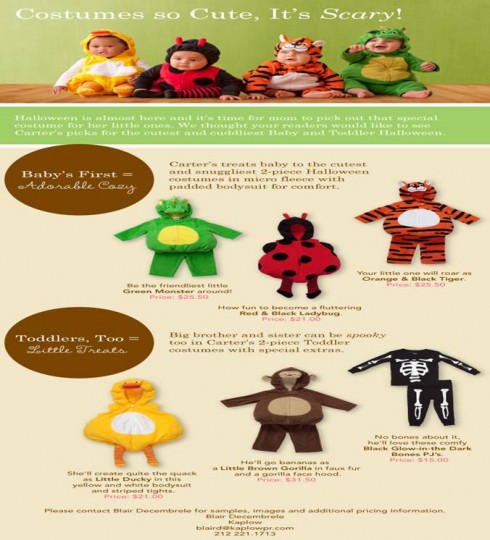 Friendliest Green Monster: SRP: $25.50
Black and Red Ladybug: SRP: $21.00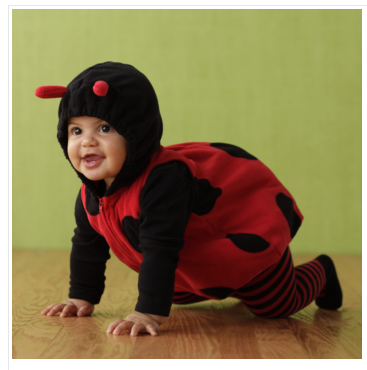 Orange and Black Tiger: SRP: $25.50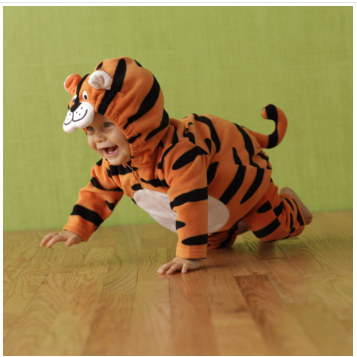 And your toddler can also get in on the action with his own cozy costume. Toddler costumes include:
Little Ducky with Striped Matching Tights: SRP $21.00
Go Bananas Furry Gorilla: SRP: $31.50

Glow in the Dark Skeleton: SRP: $15.00
Have fun dressing up your little ones!