Fashionable Media Review Policy: The featured product for this review was provided to me, at no cost, by the manufacturer or representing PR agency for the sole purpose of product testing. Opinions expressed are my own and are not influenced by monetary compensation.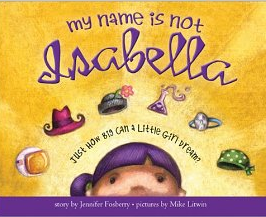 My Name Is Not Isabella: Just How Big Can a Little Girl Dream?
the authoress Jennifer Fosberry introduces famous women to young children in a sweet story about a little girl pretending to be different women as the day goes by. From Rosa Parks, Annie Oakley, to finally Mommy. Mrs. Fosberry wrote a adorable story about a little girl with big dreams. We loved that this book. It is not only was cute, but that it actually taught the children about 6 different women who made an impact on the history of the USA. Sally Ride, Rosa Parks, Marie Curie, Annie Oakley, Elizabeth Blackwell, and mommy. Mrs. Fosberry uses her writing talent to bring to us once again a wonderful story.
We really liked this book. At first I thought it was going to be about a obstinate little girl but it turned out to be a very sweet story. It reminded me of my daughter because when she was younger she would pretend that we were a family across the street from us.