Congratulations to Kimberly!!
Since no one else entered Kimberly won this giveaway!
Thank you to everyone who entered and a huge thanks to our friends at Dressing Your Truth for sponsoring this fabulous giveaway and giving our readers the opportunity to get a wonderful book!!!
---
I know, this giveaway was suppose to be posted yesterday, but we are are all sick with colds here and every time I tried to do work yesterday baby just wanted to nurse and be held. It's hard to get much work done typing with one hand.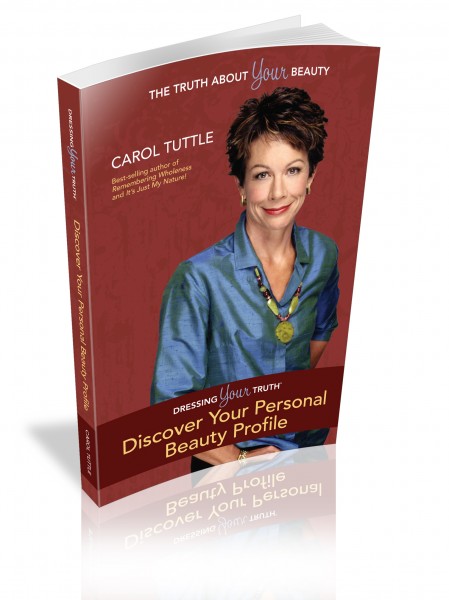 We are excited to announce that StartupNation has selected Carol Tuttle's Dressing Your Truth, Discover Your Personal Beauty Profile
as one of the top mom-owned businesses in America! Dressing Your Truth was voted in as #11 out of the 200 winners (and thousands of entrants!), and Carol is thrilled to be recognized.
Before launching her own company in 1994, Carol Tuttle struggled for years with depression, low-self esteem, and a negative body image before finding answers in alternative wellness practices. Determined to help other women overcome their self-esteem issues, Carol self-published three books, including "Dressing Your Truth." The Dressing Your Truth brand was founded in 2003, and is now a multi-million dollar family-run business. Carol's husband, children, and their spouses work full-time for the company, which teaches women to be their own beauty and fashion experts through the book and a state-of-the-art website, DressingYourTruth.com. Today, thousands of women all over the world have learned to dress (and live) their truth!
You can see the list of winners at StartupNation.com: http://www.startupnation.com/leading-moms-in-business/contestant/8893/index.php.
My Review:
Dressing Your Truth by Carol Tuttle was an enlightening book that all women need to read, whether they are a fashionista or not. Carol focuses on helping women (and men) discover their own personal beauty profile. Once women indicate which type of beauty profile they are – there are four types – they are free to dress their real truth.
As much as the fashion world dictates what women should wear, there are misconceptions and myths that all women believe. Carol debunks those myths and provides women a way to dress comfortably and attractively based on beauty profiling results. From the testimonies shared, most women seem to be very happy with the results.
The beauty profiling is Carol's trademark (literally) and she offers women simple beauty and fashion assessments through her center for Living Your Truth, her Dressing Your Truth course and this book.
I loved her 10 great rules listed on page 217, like Listen to your body, Love it or leave it, and I laughed at the husband rule: "Only take your husband or boyfriend or whoever shopping if he/she supports you and has fun. Otherwise, leave him at home!" I don't know about your husband, but mine doesn't care for shopping. Oh he's great at helping with the grocery shopping or helping me with our crew when we are all shopping together, but when it comes to down to it he knows what he wants and is in and out in minutes. Whereas, I take much longer with my browsing and indecision.
"Fashion trends and styles are designed to honor the clothing not the woman." (page 27) This statement stood out to me and I never really thought about it before, but it's so true and it's rather liberating to know that when I can't find something that I like on me, it isn't necessarily me, but the clothing.
I enjoyed reading about Carol's book and think she's onto something very significant, yet with all things, I still have my skepticism too. However, that won't stop me from recommending her book because who knows how much it will help some of you.
Soooo…….you wanna win Dressing Your Truth?
TO ENTER:
Soooo…….you wanna win Carol's Dressing Your Truth Book?
TO ENTER:
Visit www.DressingYourTruth.com and tell me something you learned about Carol or her program.
Extra Optional Entries: (Leave 1 comment for each extra entry.)
1 Entry: Follow @fashionablebaby on Twitter (include your Twitter name in comment!)
1 Entry: (per day) Tweet about this contest. Leave 1 comment for each tweet with the link to tweet.
GIVEAWAY! Enter to win Dressing Your Truth! @fashionablebaby http://tiny.cc/DressingYourTruth Please RT!
2 Entries: Follow @caroltuttle on Twitter.
2 Entries: Become a fan of The Fashionable Bambino on Facebook
1 Entry: Subscribe To The Fashionable Bambino's RSS Feed
5 Entries: Blog about this contest and link back to this post and Dressing Your Truth.
1 Entry: For every comment you leave anywhere on the blog besides here, you may add one extra link for each comment. Be sure to leave an entry comment on this post saying you posted your additional comments!
5 Entries Visit Carol's blog and leave a comment on a post.
(Note: You must leave 1 comment per entry. Extra entries will not be counted unless you leave a comment for each one.)
Sometimes our spam catcher is a little over zealous and will snag your comments if you leave multiple comments very quickly, one after another. I recommend waiting a minute between each comment. If the spam catcher gets you anyway, don't worry! Your comments have still been submitted, they are just being held for moderation. I approve them as quickly as possible. If you are very concerned about this issue, you may email me and let me know what the problem is.
Details
Contest runs from November 30th -December 12th. Last chance to enter is December 12th at 11:59pm ET. One winner will be contacted on or before December 15th, 2010 and asked for full name, along with their mailing address, etc. Carol will be sending a copy of her book to one winner! If no response is given within 48 hours, a different winner will be chosen, so please be sure to check your email. Must be 18 or older to enter. Contest open to both USA and Canada!
Enter to win!