Fashionable Media Review Policy: The featured product for this review was provided to me, at no cost, by the manufacturer or representing PR agency for the sole purpose of product testing. Opinions expressed are my own and are not influenced by monetary compensation.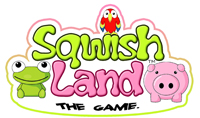 So, what exactly is a Sqwishlander, you ask? It's a squishie little character that lives in Sqwishland– of course! Each Sqwishlander is a 3/4″ rubbery animal in a plastic capsule that can be found in more than 300,000 vending machines around the world. At just 25 to 50 cents per Sqwishlander, starting a collection is easy! Made available just in November, when new 6,12 and 24 multi-packs of Sqwishlanders were available at toy stores and other retailers nationwide. Each multi-pack
promises a certain number of rare and even ultra rare collectible Sqwishlanders. In addition to collecting the Sqwishlanders, each one comes with a code for access to a new kid-friendly virtual world, www.Sqwishland.com, where kids and adults alike will enjoy playing games and feeding and taking care of their adorable virtual Sqwishlanders.

My Review:
I was quite intrigued by the Sqwishlanders pitch when I read it, so I responded and was sent two dozen or more little Sqwishlander critters. My children love them and have been playing with them almost daily since we opened the package on Friday. It was fun to see their excitement and which one each of them chose – from grey penquins to a green octopus to a bunch of creatures in between. There are a large size and a small size of Sqwishlanders. Both sizes are pretty small, so beware of that as they could be a choking hazard for those children still putting things in their mouth.
As much as we love these little critters, Sqwishlanders.com was a disappointment. It's free, but I think the real fun must be in the premium, paid membership. The website was too slow to download and switch pages. We tried it after dinner, so I was tired but still it took about 48 minutes to sign up, explore, wait and figure out what we were suppose to be doing in Sqwishland – and it was me in control of the key board not the children!
If you are a parent who monitors what your children do online, then you may be as put off as I was that Sqwishland is an interactive site where children and adults can chat (anonymously if you choose your username correctly at sign up, I made the mistake of using our last name with the first sign up and then changed it when I realized my mistake). I say that so you'll be aware because not every site that you create a username uses that as your welcome name. I am a part of some sites where I created a username to use when I login, however, they use my real name to greet me. Every site's software will be different and that is the case with Sqwishlanders.com
Another thing I didn't like is during the sign up process requires a birth date. While I do not condone lying, my husband and I are pretty protective of our birth dates, especially those of our children, so I made up a birth date. There are new scams with people stealing children's social security numbers, so why should we be willing to give our children's birth dates out or even our own? That requirement is a huge turn off for us.
When we entered an access code, we did not know what to expect and it appeared to do nothing. Either that or the site was so busy that it just took too long and we went on to the next thing without finding out.
On the bright side, the website is cute. The picnic area had an educational market stand, but participants had to be paying members to play.
On the down side again, we could not get the race track to work, but maybe that was a paid game too. We tried and tried, even texting some of the other Sqwishlander visitors asking them to if they wanted to race and to click the race car to do so, but it still did not work for us.
Many of the participants seemed to just be standing around wondering what to do too, unless we just could not see the activities they were involved in. Therefore, if that was the case, we really did not "get" the website for those with a free membership. For that reason, we did not have an enjoyable experience. But hey, others may get it, like it and even actually pay for the other curious options included with the paid membership.
So for those of you techo-savvy folks with techie children, perhaps this could still be a gift idea for Christmas, especially if the paid membership is more enjoyable. After all this is a toy that does not have any accessories nor does it take up a lot of storage space – for our home this is a must in the gift department!