Having a baby doesn't have to mean clutter in the kitchen. Two brand new organizers are hitting stores this Fall. We thought you might have interest
in these home solutions.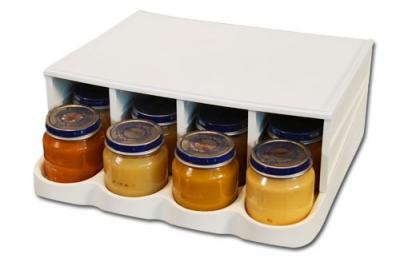 The Baby Buffet is a baby food jar organizer! It can store up to 16 jars of baby food. It is stackable to maximize vertical space in a standard kitchen
cabinet. Additionally, Baby Buffet can be adjusted to accommodate all three stages of standard baby food jars. Because each Baby Buffet has four separated rows and is built with a slight incline using gravity to automatically move the jars forward, food can be sorted by type and variety making feeding time searches easier and faster.
And for bottles and sippy cups, there's the Baby Beverage. This organizer can hold up to 9 bottles or cups and loads horizontally using gravity to dispense them one at a time. This allows bottles or cups to be stored compactly in a smaller footprint than stacking vertically in the same space. Baby Beverage is compatible with over 35 bands of bottles and 40 brands of sippy cups and is adjustable so there are no worries when baby grows out of the current bottle or cup. Simply adjust it to hold the next size. Additionally since the bottles or cups are contained, Baby Beverage helps eliminate the chance that cups will be knocked over and contaminated when searching for a cup at feeding time.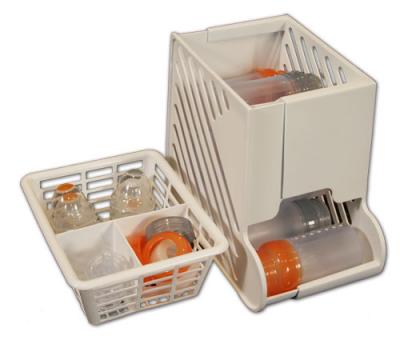 The products are being unveiled this month and will be available online and in stores. www.prkproductsinc.com