Fashionable Media Review Policy: The featured product for this review was provided to me, at no cost, by the manufacturer or representing PR agency for the sole purpose of product testing. Opinions expressed are my own and are not influenced by monetary compensation.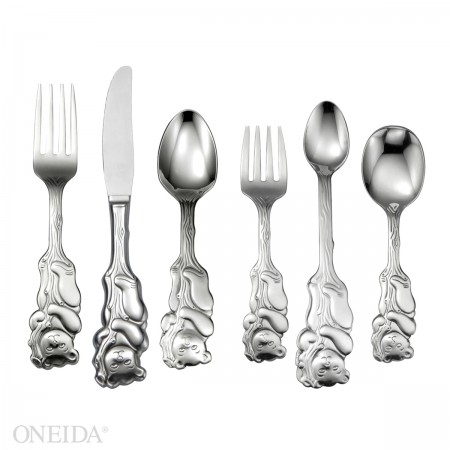 This gift set is a beautiful first flatware set for babies and young children. It comes in an attractive box and has 6 pieces that a baby/child may use as they progress in their development and feeding skills. The six pieces include: baby fork, baby spoon, feeder spoon, child knife, child fork and child spoon. This is stainless steel flatware and has the cute cubby bear on the ends of each piece. The flatware pieces are sturdy and perfect for little hands.
Oneida provides a one year limited warranty on its stainless steel 6 piece Baby and Children's Flatware Progress set. The flatware is dishwasher safe, but please read the care tips before using for more information about the limited warranty. I actually learned a couple of new things in doing so! Such as not soaking the flatware, I am notorious for letting dishes sit in the sink and forgetting about them! So this was good to know.
We love this cute gift set. It is a wonderful gift idea for baby or a younger child this Christmas. And as of the time I wrote this it is on sale regular $30.00 on sale for $12.99! What a steal! Such an affordable holiday gift.
Visit Oneida.com for more information and Christmas gift ideas.