Fashionable Media Review Policy: The featured product for this review was provided to me, at no cost, by the manufacturer or representing PR agency for the sole purpose of product testing. Opinions expressed are my own and are not influenced by monetary compensation.
First Impressions has some pretty cute baby clothes that are available at Macy's. This brand offers these adorable outfits at an affordable price.
We received a baby boys bodysuit and pants in pumpernickel (the brown colored one) and it fits Sir Eats Alot very well in size 6-9 months. The pants are a little long but his little moose boots help keep them up. 😉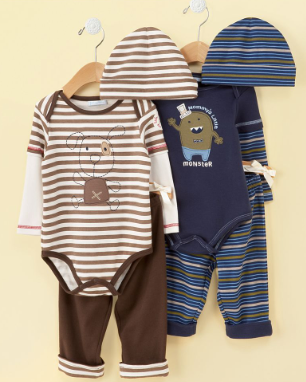 First Impressions Baby Set, Baby Boys Bodysuit and Pants: Regular $9.98 currently on sale for $5.59
I love this outfit, however, I was a bit disappointed in it as after the second washing about an inch in the leg seam came unstitched. The leg seam, which is edged in an elastic type biased tape, and easily be fixed. It's just that when an item is new I don't expect it to come apart on me that easily.
The other outfit is just as cute and very boyish in my opinion. It is made of a heavier material which is perfect for winter. It snaps at the crotch area and has a little applique of "Flying Ace", "F1 Little Pilot" and little airplane wings stitched on the front. This outfit reminds me of an auto mechanic suit in the color and style for some reason.
I could not find this outfit on Macy's website, so I do not know if it is available anymore. This baby outfit ran a bit bigger in size as it is a little large on Sir Eats Alot. Sorry for the blurry picture, my camera just doesn't take very good close ups and I wanted you to see what it looks like. Just click on the pic to enlarge it.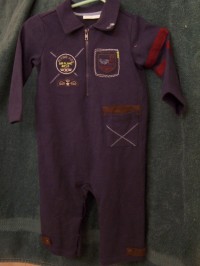 Cute baby clothes from First Impressions will allow your baby to dress in style this Christmas season, so be sure to check out all the other items they have available. Many appear to be on sale too!