Fashionable Media Review Policy: The featured product for this review was provided to me, at no cost, by the manufacturer or representing PR agency for the sole purpose of product testing. Opinions expressed are my own and are not influenced by monetary compensation.
The Padailly is a baby accessory that was created to give parents comfort while carrying baby's carseat by providing extra padding (the Padalily) on the handle of the car seat.
The Padalily seemed to do its job fairly well. I don't go out a whole lot, but the times that I have used the Padalily it gave a plush feel when carrying the baby seat from the car to my destination. It is a unique product and fits easily over the handle of the car seat. The velcro stayed attached, and it stays on the handle without falling off.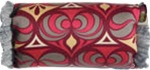 The Padalily comes in 20 different patterns and all of them are $26. I'm not crazy about the pattern I was sent, but hey it does match my car seat! 🙂 It is the Red Frisco Padalily. Here is their description:
Red, grey and butter yellow with grey fringe. Reverse side: red, yellow and cream dots. As easy as 1-2-3, the thick bands of Velcro® allow for easy on, easy off, and a fast change if you want to reverse it!
To purchase the Padalily please visit: www.padalily.com