Fashionable Media Review Policy: The featured product for this review was provided to me, at no cost, by the manufacturer or representing PR agency for the sole purpose of product testing. Opinions expressed are my own and are not influenced by monetary compensation.
The Power Gig: Rise of the SixString is a music video game (on the Xbox 360) that uses a real guitar as a controller and teaches the fundamental skills of guitar playing in the process. While the game is "Teen" rated, the rating is due some of the lyrics in the game's popular songs, from Eric Clapton's Layla to John Mayer's Your Body is a Wonderland.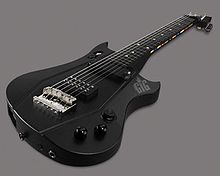 Due to having a son interested in playing the guitar, I accepted this review. However, this review is only of the guitar, not the video game as the images and song lyrics we watched on YouTube and Xbox were not appropriate for our family. I would have to stick by the recommendation above stated in the pitch – the whole package of Rise of the SixString is more suitable for teens.
On the positive note, my son really, really liked this guitar. He thought it was very cool and that it was special. He has been having alot of fun playing it. He even named his guitar "Jasmine" after the flower! He liked the way it played, but since he's not an experienced guitar player he has no idea what to look for in a guitar. He is trying to make up his own songs. We have even caught him sitting with his guitar with a pen and paper! He has one song that could challenge celebrity kid Willow Smith's popular song, "Whip My Hair". Except my son's song includes sounds of indigestion or frogs croaking. For those of you not good at guessing, his song is about burping. Leave it to a boy. Definitely not my preference for a song, but I did have to hide my laughter during one of his home performances because he was just so serious and having fun that it was hard not to laugh! The thing is, I just did not want to encourage any more "creativity" in that direction.
I have only had a classical guitar, not an electric one, so the Power Gig SixString sounded very different. It could be because is made out of plastic or a combination of that fact and that we do not hook it up to an amplifier. Plastic certainly creates a different sound from what I have read, which makes sense because wood and plastic are two very different materials. I am not an expert on guitars in any way, shape or form.
The Power Gig: Rise of the SixString comes with a strap, three extra strings and picks. It seems intriguing that the guitar is the controller. I think that it would be kind of cool for kids. It's just too bad the game didn't include more appropriate lyrics to make it more kid friendly.
So far the guitar is holding up well while being used by a young boy. However, when I test a product for only a week or two I like to disclose the fact that my review will not be of much help for the long term quality of the product.
About Whole Package: Power Gig: Rise of the SixString
The following information is what was included in the pitch. I am sharing it with you to give you a better idea of what to expect from the whole package.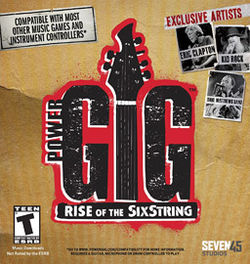 Power Gig Rocks for Kids
It's a revolutionary band video game with a fully immersive storyline that takes players beyond the music and into a world of intriguing characters, special powers, and an epic journey to save rock and roll.
Real Guitar
Power Gig is the first and only band video game with a real guitar as a controller, so kids can "rock it real" while they play. NO prior guitar experience necessary!
Excellent Song List
Power Gig features songs from music superstars like Eric Clapton, Dave Matthews, John Mayer, and No Doubt to today's biggest emerging bands, like Paramore, Jet, Silversun Pickups, and Snow Patrol.
Bonus: Learn Guitar!
Power Gig can help teach basic guitar skills including how to properly press down on a string, hold a pick, and strum. In addition, you can turn on an optional chording mode that will help teach players actual guitar power chords in the songs they are playing.
Music Makes You Smarter?
Did you know that playing music develops concentration and memory and sharpens hand-eye coordination? And according to NAMM, studies show that music enhances intellectual, physical, emotional, and social development.
Available at Major Retailers
You can find Power Gig at major retailers like Walmart, Target, Best Buy, GameStop, ToysRUs, BJ's, QVC, and Amazon.
One-Stop Shopping
You can buy everything you need in one box! The band kit comes with the game and the SixString guitar controller so you can start playing right away.
Worry-Free Fun
In a marketplace of violent video games, rest assured that Power Gig's world of Ohm is a peaceful zone. The ESRB gave the game a T (Teen) rating, listing mild lyrics and mild suggestive themes.
* Look for Power Gig in Family Circle's holiday gift guide, going to 5.1 million shoppers in late November.