Fashionable Media Review Policy: The featured product for this review was provided to me, at no cost, by the manufacturer or representing PR agency for the sole purpose of product testing. Opinions expressed are my own and are not influenced by monetary compensation.
We all know and love the Carter's brand. Carter's makes lots of cute baby clothes, as well as kids clothes. We received this cute baby girl Christmas dress to review.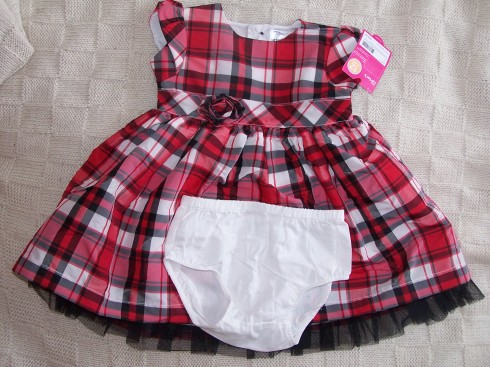 I have never understood why manufacturers made winter clothing with short sleeves, but a little black or white sweater will add a layer of warmth to this dress. It has a lining and a sweet little pair of bloomers or diaper cover to go with it.
It retails for $36.00. I could not find the exact dress on Carter's website, however, the have similar dresses and they are currently only $14.00! Carter's also has free shipping with the code: CHEERS for online orders $50 or more. Just another idea for last minute shoppers looking for the perfect holiday gift.