Most Wii games are violent. And it can be hard to find non-violent child safe video games. So here is our list of video games that are child safe.
Cars 2 Video Game
This video game is great for older kids that are 10+. It was given a ESRB Rating of everyone 10 and up. It's $39.96, but I can assure you that if your kids loved the movie then they will love this! Cars 2: The Video Game
 If you want a less violent game for younger kids then check out- $19.54, Cars Race O Rama
.
Super Mario Galaxy 2
DUH! You knew that we were going to mention this didn't you?? Yes, we will. This fun adventurous game is perfectly safe for kids of all ages and is $44.93,  Super Mario Galaxy 2
Guilty Party
If your kids are like mine then they probably want something adventurous and fun. My kids aren't ready for scary violent video games, but this fun family-friendly video game will satisfy their love for mystery! Older and younger kids will love it. $18.86, Guilty Party
Blue World
Older children will love this video game. And parent's will love that this is educational! While they are having fun playing and feeding over 300+ species, they will also be learning about them. It's a great fun yet educational game for everyone 10+.  $32.80, Endless Ocean: Blue World
MySims Agents
Here is another fun and totally action packed game for your older kids. They solve crime the old fashioned way and kids will have fun tracking criminals and following blue prints. However, this game does not contain any violence, fights, or weapons. $13.88, MySims Agents
 Dora Saves The Crystal Kingdom
In this magical, pink, and sparkly adventure little girls will love being able to help Dora save the crystal kingdom!  $18, Dora the Explorer: Dora Saves the Crystal Kingdom
Ni Hao, Kai-Lan: Super Game Day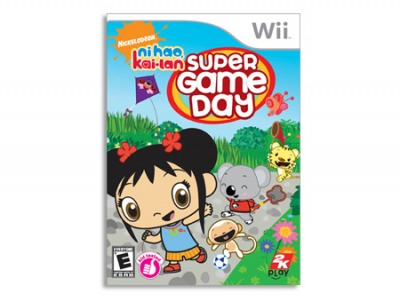 All of your younger children will love this game. It's completely kid friendly and they will have a ton of fun while playing games! $11.67, Ni Hao, Kai-Lan: Super Game Day
 Dance Dance Revolution Disney Grooves
If your teenage loves the adult version of this game, then your kids will LOVE this kid-friendly version from Disney. $129.95, Dance Dance Revolution Disney Grooves Includes Two Dance Mats
Wii Music
If your family loves music, then they will love this video game! The entire family can have fun playing different instruments. Price: $37.75, Wii Music
Like these ideas? Then you can also check out- $15.99, Ultimate I Spy
 and $17.99, Animal Crossing: City Folk
What are your child's favorite video games?