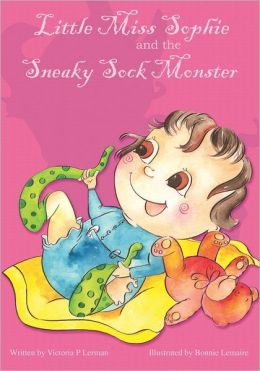 Little Miss Sophie and the Sneaky Sock Monster is a wonderful book! This book is about a little girl, her family, and of course the sock monster. No need for alarm, the sneaky sock monster is not scary or bad he only borrows socks! Accompanied with attractive illustrations, and written in the form of poetry, this book is an appealing short story about the common distress of losing a sock.
This book is written in rhyme and my children loved it…I loved it too! We loved that the little girl in the book was a baby "finding her feet" and then "finding" her socks only to have them lost to the sock monster…it made us laugh. The author has written this in such a lovely rhyming text that it just trips off the tongue when read aloud. Additionally, this is not a long book with much text so I found it nice that my older child could read the book to the little ones. I also found that my beginning reader had a fun time trying to read the text. So in our house it was a win win situation because everyone was able to enjoy the book at his or her own level.
What I loved about this book is as a mom, I finally found out where all those missing socks go…to the sneaky sock monster!
Side Note: This book is available on amazon.com. You can even have a look inside the book at this link: http://www.amazon.com/Little-Miss-Sophie-Sneaky-Monster/dp/1419628518
Fashionable Media Review Policy: the manufacturer or representing PR agency for the sole purpose of product testing provided the featured product for this review to me, at no cost. Opinions expressed are my own and are not influenced by monetary compensation.