As one of the leaders in breasfeeding pumps and supplies I was eager to try a piece from Ameda's Intimates collection.  Their intimate apparel includes nursing bras and nursing camisoles.  Both products are made with a flexible fabric that easily adapts to a mother's changing shape while offering complete comfortable support without underwires.  I was never aware that wearing a bra with an underwire can lead to plugged ducts, which is never an ideal situation.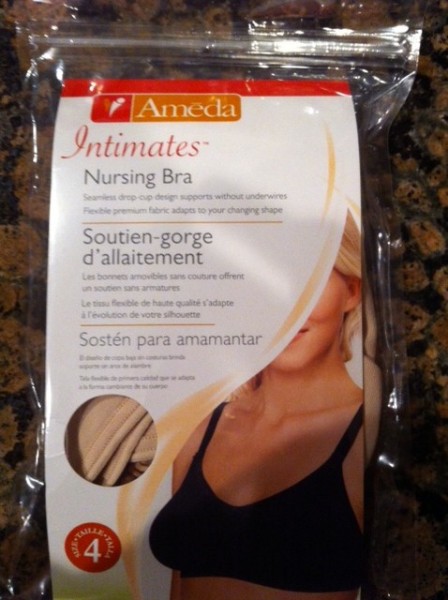 Ameda Intimates Nursing Bras and Nursing Camisoles are available in five different sizes, from cups A all the way through J.  The larger sizes have an additional strap cushioning that is removable.  I was able to try the Nursing Bra and I found the additional cushion on the strap to be a bit cumbersome.  I liked that it had the option to be removed.  The material was a very soft, stretchy, microfiber material.  It was very breathable, which helps prevent bacteria growth and most importantly, odors.  The bottom of the bra has an elastic band that fit like a glove.  It was not too snug; I didn't have a band around my back at the end of the day, yet it didn't move at all throughout the day.  It fit like it was custom made for my body.  Normally I am not a fan of wearing a bra without an underwire, since I am larger breasted.  I felt like this bra offered enough support that I did not need an underwire.  I liked that the bra was tagless, so there was nothing to itch me, and that it was machine washable.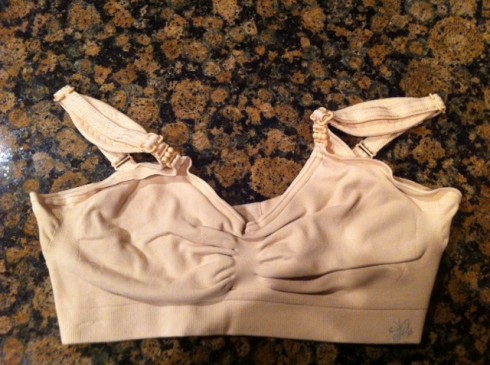 As a nursing bra I found it to be very easy to use.  The bra features a one hand release clasp, which was very important to me.  The clasp must be in a complete upright position for it to snap back into place.  You can hear the "snap" once it is secure.  Both disposable and cloth nursing pads fit nicely inside the bra.  Both the Ameda Intimates Nursing Bras and Nursing Camisoles are certified by Oeko-Tex, which means they are free of the standard 100 harmful substances, therefore reducing the risk of skin irritation and allergy.  This is especially important if you have sensitive skin.  Overall, I was impressed by the Ameda Intimates collection and would definitely recommend them to breastfeeding moms.  Their products are available at many stores and online retailers.  View their website for more information:
http://www.ameda.com/ameda-products/ameda-intimates
Fashionable Media Review Policy: The featured product for this review was provided to me, at no cost, by the manufacturer or representing PR agency for the sole purpose of product testing. Opinions expressed are my own and are not influenced by monetary compensation.