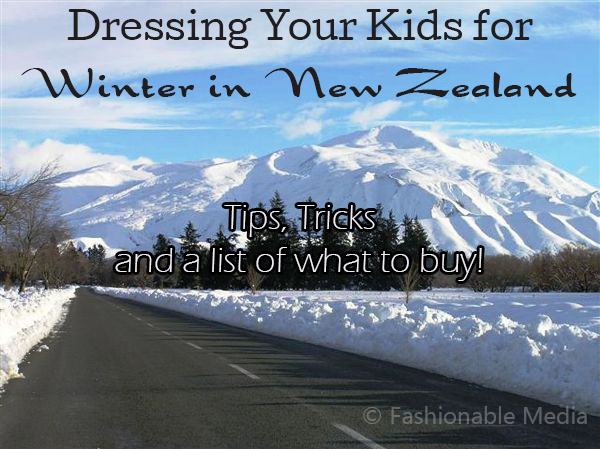 If you've just moved to New Zealand with your kids, it's likely that you still don't know what to expect all-year round. You will have probably already noticed that the weather can be a bit changeable, and this is true pretty for the whole year. You'll probably agree that the strange conditions are worth it though for the amazing quality of life you'll get in return. In the summer, you can expect to have some days of sunshine, as well as days with showers. The weather can be a bit more intense during the winter though, so it's worth being prepared for it well in advance.
Here are just a few of my tips for the things you'll need to add to your kids' wardrobes before the winter comes around…
Hats, scarves and gloves
It is essential to buy warm accessories for your kids as they'll want to spend plenty of time outdoors. Whether they are going on walks with their school or simply playing in the yard, hats, scarves and gloves will keep their extremities nice and toasty. Think about having a number of different styles depending on the weather and activity; wool mittens might be ideal for day-to-day use, but thick waterproof gloves might be more effective for snow activities such as skiing and snowboarding. If your child will be getting into these sports, think about neck tubes instead of scarves as they are safer around ski lifts.
Gumboots
If you've come from the UK, you might have brought along your wellington boots. In New Zealand, these are called gumboots or muckboots. The main difference is that the ones in New Zealand tend to be a bit hardier as people wear them much more frequently than in the UK. For example, if you search for a kid's pair here you will see that they are designed to be both waterproof and cozy for wearing in the winter. They are also more comfortable as it seems that more care has been taken into the shape of the sole and heel, rather than being very flat like in the UK. You'll find them in many colors so pick ones that your kids will love – they should last until your kids outgrow them which is good news for your wallet.
Lots of layers
Layers are very important in New Zealand, both in the summer and the winter. In a country that is known to have "four seasons in one day" you really do need to be prepared; it's your job to make sure your kids have everything with them that they'll need. There are a lot of ways to layer, but popular items include wool vests, long sleeved tops, knitwear and waterproof outer layers. My recommendation would be to head to an outdoor living shop and buy everything in one go – you need to make sure that you can fit other layers underneath a coat before you buy one as it'll hardly ever get used by itself.