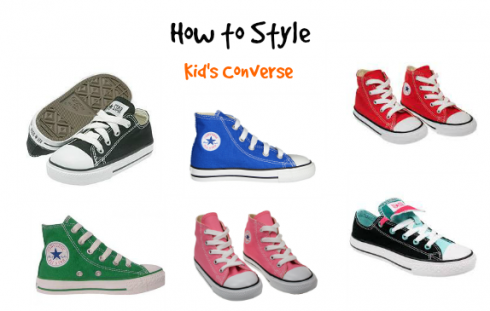 Converse are all the rage right now. It seems like all the teenagers and young kids want a pair. Naturally, this means that your youngest kiddos will want a pair just like big sis.
It's relatively easy to style these casual shoes, they go with everything from jeans to skirts. I love how effortless Converse shoes are. Even the most picky kids will love how comfortable these shoes are. Kids gravitate towards all of the bright colors and shoe style options available.
With a basic tee, mini skirt, and leggings- The little fashionista in your life will love pairing her bold converse with a basic tee, mini skirt and leggings.
With red jeans and a white tee- Red jeans are huge this year, and this outfit idea works for both boys and girls. Red jeans (or any colored pair of jeans) are eye catching and go perfectly with converse shoes.
With a dress- Bring back the casual grunge look of the nineties by pairing converse with a dress. Chances are, even the most stubborn little girl will wear a dress if she has cute shoes to go with it!
Converse and suit jacket- From a more conservative point of view, this outfit just shouldn't work. However, the combination of a sharp suit jacket (for either a boy or a girl) with casual shoes and either jeans or a skirt, works really well.
With a fedora- Fedoras are more in right now than one might think. Pair converse and a fedora, with an extra cute shirt and faded jeans and you have the perfect outfit for spring.
For all the awesome selection of Converse shoes that are available, visit Famousfootwear.com