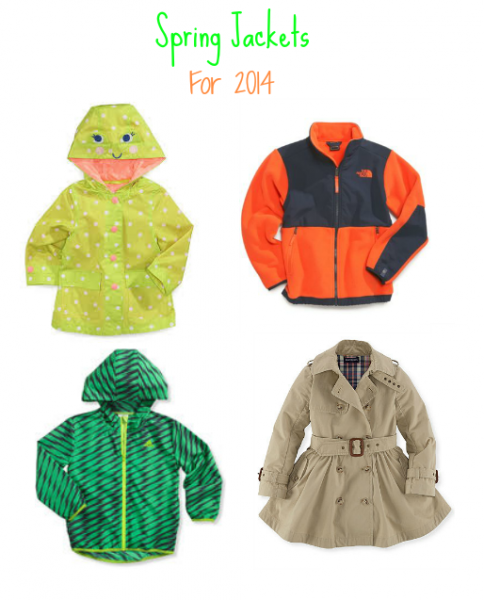 Finding suitable spring jackets for your little one this spring can be a challenge. Some jackets aren't kid friendly at all, others are stylish, but not at all suitable for cold and rainy weather. Basically, it's a challenge to find something fashion forward, but still durable in the cold weather. Luckily, Macy's has a great selection of jackets that are both fashion friendly and suitable for Spring.
Carters Frog Jacket ($22.99)-Â This adorable jacket is perfect for drizzly weather this spring. We love the polka dot print and pink buttons.
The North Face Boys Fleece Jacket ($109)-Â This bright, sturdy jacket is perfect for any little boy this spring.
Ralph Lauren Girls Trench Coat ($112.99)-Â Trench coats are all over the runway this spring, and what better way to keep your little one in style than to deck her out in a gorgeous little trench coat.
adidas Little Boys Shockwave Jacket ($25.99)- This green and black striped jacket is colorful enough for the vibrant little super-hero tracking mud across your floors, and warm enough to satisfy mama.