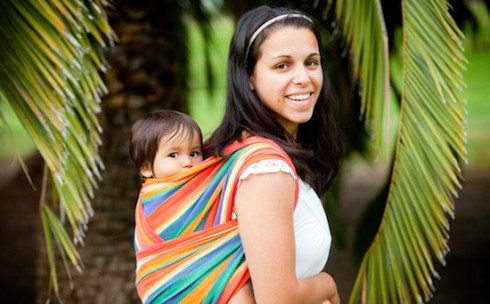 Baby wearing has slowly, but slowly gained momentum over recent years. While the popular consensus about ten years ago was far from that of natural mamas, it seems like almost everyone has a baby strapped to their chest these days.
Recent studies done by psychologists and child care professionals have shown that the long term affects of baby wearing are only positive. I've carried my four youngest children and the bond that you have with them from that daily closeness is irreplaceable.
Baby wearing enables you to keep your little ones close as you shop, clean the house, do laundry, cook, and even garden. While baby wearing is mostly hands free, you're still able to maintain a physical closeness between you and your baby.
Due to the popularity of baby wearing, there are literally hundreds of carrier options available for new and veteran moms out there.
When looking for a baby carrier, the first thing to keep in mind is fit. An uncomfortable baby carrier will not make your baby wearing experience pleasant for either you or our baby. The second thing to look for is quality. Some baby carriers are better made than others, and when comes to something that will be carrying your child, you want something of high quality and not something you bought for twenty dollars in Walmart.
Lastly, baby carrying can be fashionable as well! With all the carriers available, there are some that are really high fashion with cute styles and prints that both you and baby are sure to love. Whichever carrier you choose, make sure it's one you'd be comfortable wearing on a daily basis.