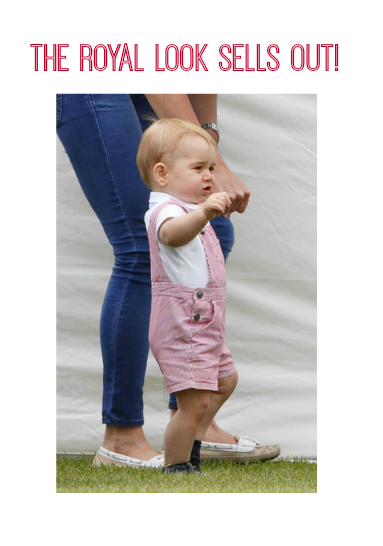 On Father's Day, little Prince George was spotted with his mum at a charity polo match. He was wearing the most adorable pair of red and white striped overalls, that had every mother swooning.
You have to admit, they're seriously cute overalls. The red compliments his features perfectly, and are a nice change from the typical blue and grey overalls that you see in most stores.
Sold by Neck and Neck, a children's brand of clothing, the overalls sold out within twenty-four hours of the pictures hitting the web. In not only the red color, but in grey and blue as well. However, there is a copycat pair of grey overalls at Osh Kosh B Gosh for $14.00, that will hopefully tie everyone over until the overalls come back into stock.
The good news is, you can still purchase the polo shirt and shoes that Prince George is wearing. The Early Days Pre-Walker shoes are priced at $49.40 and come in several different colors and sizes. And the White Polo shirt is available for $15.99 on Neck and Neck's website.
Here's to hoping that the adorable overalls are available again soon! At a price of $50.00 for designer overalls, they're worth every penny.