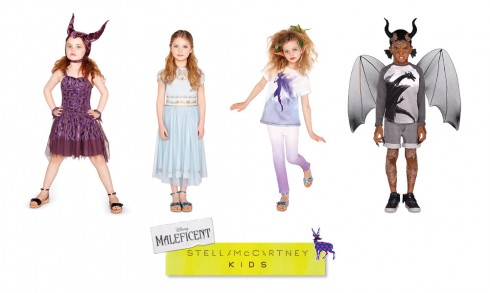 Back on May 30th, Maleficent was released in theaters worldwide. With worldwide box office earnings over six hundred million, saying this film was a success is a wee bit of an understatement.
To celebrate her new film, Angelina Jolie teamed up with Stella McCartney to launch a line of Maleficent inspired clothing for children! Inspired by the characters and gorgeous graphics from the movie, the Maleficent by Stella McCartney collection has eight playful styles for boys and girls ages four to fourteen.
The line has plenty of contrasting pieces, edgy graphic t-shirts, princess inspired dresses, cozy sweatshirts dragon sneakers, and glitter sandals.
While the collection isn't everywhere, you can find it in select Disney stories worldwide as well as on Disney stores online, and on Stella McCartney.com. Prices range from between fifty to one hundred and twenty-five dollars.
And of course, 10% of the profits from the sale of every item goes to the charity SOS Children's Villages, which provides suitable homes for abandoned, orphaned and vulnerable children.
You can find the Maleficent collection at stellamccartney.com