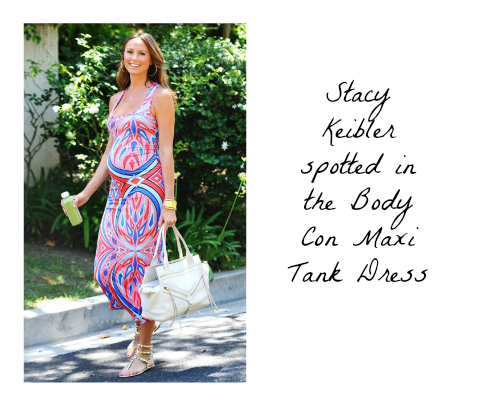 Stacy Keibler looked adorable as she walked around Los Angeles earlier this summer. From the beginning of her pregnancy she's shown off her adorable baby bump in flattering attire that is on point with the latest trends!
Bold prints are huge this year and were all over the runways late last year and earlier this year. Stacy is staying on top of the current trends with her Body Con tank maxi dress.
This dress isn't originally a maternity dress, but due to the stretchable polyester and spandex fabric, it's perfect for both pregnant and non pregnant mothers who want to add something cute to their closet this summer. Whether you're running errands, cheering along your middle child's soccer game, or hosting a barbecue with friends, a maxi dress is the perfect choice to remain looking fabulous, even during pregnancy!
Priced at $194 and available in sizes XS-L, this stretchable maxi dress is perfect for summer. You can find it on tbagslosangeles.com.