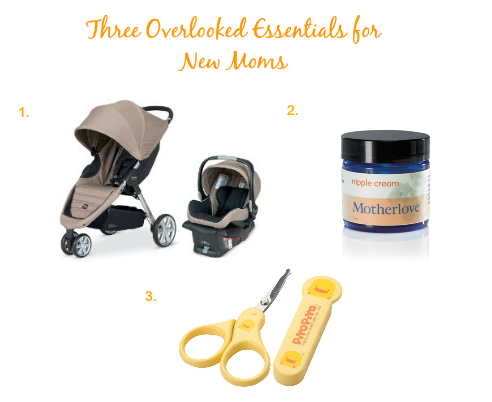 Bringing a new baby into the world is far from an easy task and while the internet is incredibly helpful when it comes to finding products for your little one, there are often a few essentials that are overlooked.
1. A travel system- Every new mom buys a stroller and a car seat, but most moms don't buy a travel system and that's their biggest mistake. A travel system allows you to smoothly transfer your sleeping baby from the car to their stroller without any extra hassle. We recommend the Britax B-Safe travel system. You can save seventy dollars on it by purchasing it at Amazon.
2. Nipple Cream- Veteran moms will tell you that when you are nursing a baby for the first (or even third!) time, your nipples will be sore. This improves as time goes on and your body adjusts, but for those first few days, it's incredibly helpful to have nipple cream on hand to soothe your chapped and aching nipples. We recommend the all natural Mother Love cream for $8.46 on Amazon.
3. Baby nail scissors- It's absolutely terrifying to find your brand new baby with scratches on his or her face. It's even more terrifying to try cutting those fragile fingers. These rounded nail scissors from Piyo, Piyo are only $5.85 on Amazon.
What essentials do you find are overlooked when it comes to bringing home a new baby?