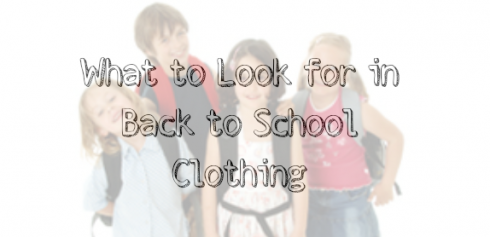 Finding the best clothes for back to school shopping can be a challenge. Every store claims to offer the best deals and most durable clothing for the school year.
First, start off by figuring out what your children need. What basics is their fall and winter wardrobe missing? What essentials do they need? Any must have fashion accessories that your kidlets want to sport this fall?
Once you have a list of what you need to buy, you can start looking for the items in stores and online. In back to school clothing, look for durable material that will last for the entire school year, as well as affordable prices.
For pants, tights, and leggings, look for a fit that is neither too tight nor too loose. You want your child to fit into their jeans until their next big growth spurt. Pants that are too loose will annoy most children, and no kid wants to be stuffed into too tight pants! When it comes to the style of bottoms, make sure that you have an equal amount of fun prints as well as basics such as blue jeans, tan khakis, and plaid skirts with black tights.
As for shirts, fun patterns such as button ups, glitter tops, and vests can be mixed and matched with basic bottom pieces are essential. Solid tees and blouses pair beautifully with funky skirts, striped pants, and leggings.
Don't forget to look for some fun accessories as well! Cute fedoras, bangles, and red belts can help you and your child create completely different outfits each and every day!