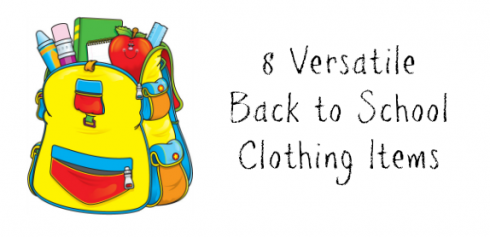 On busy school mornings, versatility is important when it comes to putting outfits together quickly. Of course, you can always set out clothing the night before, but most of us moms forget, so here are a few of the most versatile clothing items for the back to school season.
Plaid shorts: Whether you pair them with a polo or a t-shirt, plaid shorts are in this year and are perfect for when you need to put together a cute, classic back to school outfit.
Dark wash skinny jeans: Your child needs them. Jeans literally go with everything in your child's closet and if older kids keep them clean, they can be re-worn up to three days in a row.
Long sleeve plaid button down shirt: The plaid button down shirt goes great with a skirt, khakis, shorts, jeans, and is suitable for everything from class to field trips.
Denim jacket: Sure, you can opt for a hoodie, but a denim jacket is so much cuter. It adds a touch of grunge to an outfit with a skirt and leggings and you can't go wrong with denim!
Tiered skirt: Tiered skirts are the perfect way to embrace the coming fall months. They can be worn by themselves during the summer months and then paired with tights or leggings during the winter. Not to mention, brightly colored or patterned skirts make a perfect contrast when paired with a simple tee or blouse.
Button down dress shirt:Â You can't go wrong with a classic, button down dress shirt. Get one in blue and white for each of your kids so you have a backup plan if one is in the wash.
Khakis: Khakis are the only pants your kid will ever need. (Well, maybe) The classic preppy pants look great with almost everything and are perfect for wearing to school.
Leggings: I can't stress enough how leggings will save you over and over again during the school year. If school clothes end up being dirty, you can pair leggings with a tunic or dress as a backup plan. Not to mention how they transition summer clothes and make them wearable during the fall months.
What versatile clothing items are you purchasing for your child this fall?