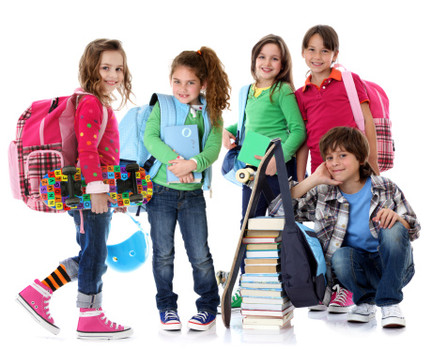 The back to school season is here and here are five HOT trends that you should know about! These are perfect for school kids of all ages, whether they're in high school or kindergarten.
Vintage glam:Â Vintage is making a graceful comeback this fall in the form of vintage style print dresses, bow ties, cardigans, dress shirts, and fedoras.
Mini grunge: Grunge is IN this year, everyone is getting back into punk leather and grungy denim. Dress your mini punk star in a tulle skirt and ripped leggings for the perfect edgy look, or pair a nice dress shirt with faded denim for an effortless grunge look.
Preppy: One of the hottest styles this fall is the preppy look. Everyone is pulling out dresses skirts, button down blouses, and khakis and polos. Fake pearls make a nice touch to any little girl's outfit and dress shoes pull together any handsome little dude's outfit. If you're not sure what style to follow this year, go with preppy! You can never go wrong with cute, prepster inspired clothing.
Plaid: Plaid is EVERYWHERE this year. Whether it's in the form of hats, skirts, dresses, or shorts, plaid is one of the hottest trends this year. Make sure your little one stays on trend with at least one plaid item this year.
Comfy chic: Over-sized shirts and leggings, cable knit dresses, beanies, and slouchy shirts with skirts are all in. When paired with glasses, boots, a scarf and a beanie, your little one can look like a miniature hipster.
What trends are you dressing your little one in this fall?