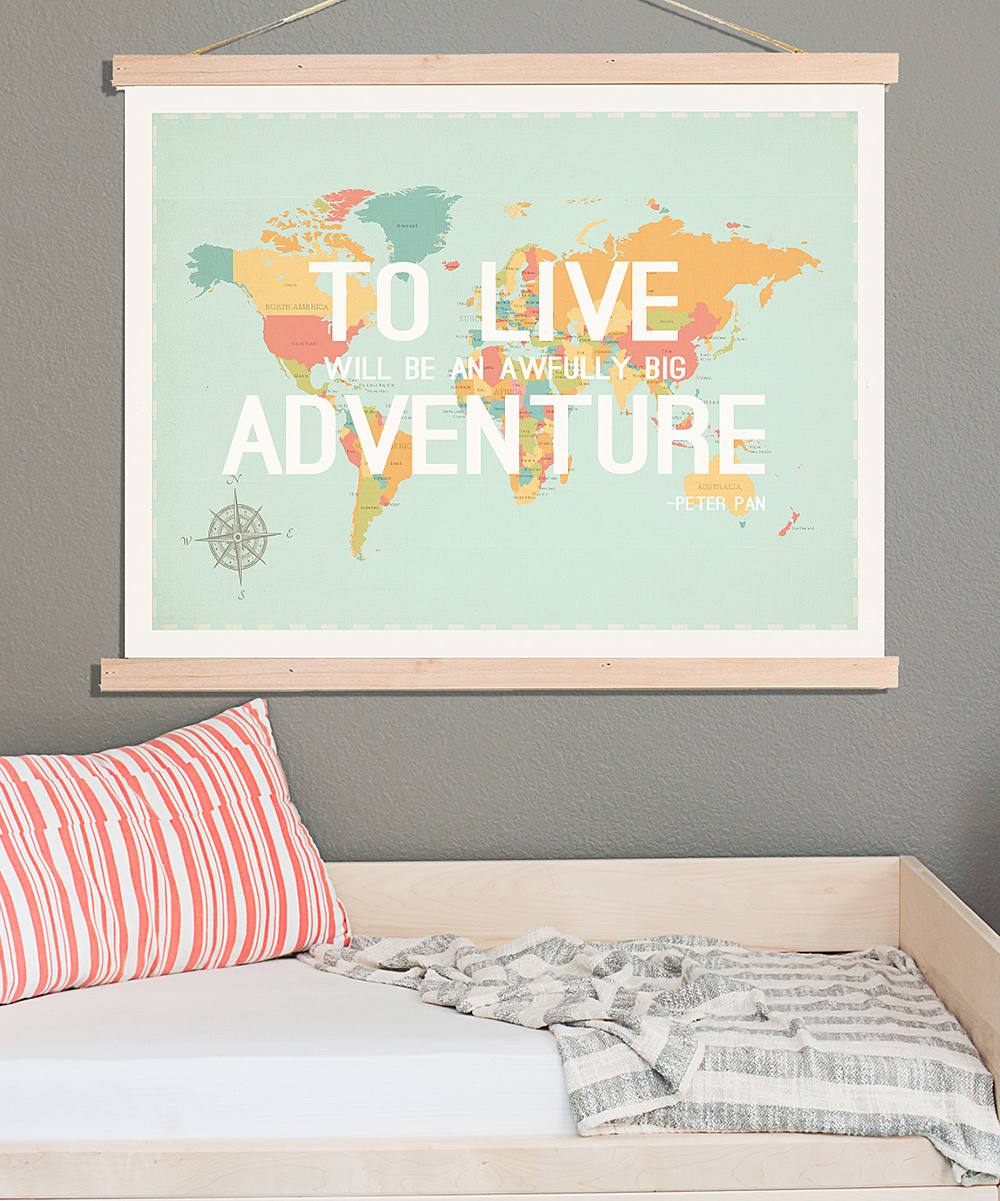 Img Source: Zulily
Kids love the unusual, the novel, and pretty much anything that lets them explore. At the same time, that stuff can be difficult and expensive to put together. Fortunately, it doesn't have to be that way. Your kids will love these super-easy and inexpensive makeovers.
Use Wallpaper
Wallpaper – yuck, right? Not so fast. This kids wallpaper uses a "paste the wall" type adhesion, meaning that it's much easier to hang than your grandmother's wallpaper. It's also a lot less expensive.
"Paste the wall" means that you literally paste the wall instead of the wallpaper. Traditional papers are tacky when you apply the glue, which makes them difficult and messy to manage. Not so with newer papers. Choose bright and fun colors, and your kids can help you redecorate.
Use Rugs
Rugs seem so simple, and yet that can really make over a room – especially when that room has hardwood flooring. There are so many ways to approach this project, but the simplest is to find a cheap used rug online through Craigslist or Ebay.
The problem with rugs is that they're very "adult." But, if you choose geometric designs, and opt for brighter colors, you can get something very kid-friendly.
Get New Furniture
This is where makeovers can get expensive. Children's furniture seems to cost more than adult furniture sometimes. But, when you get creative, you can bypass the premium placed on your little one's room accessories. Go for wooden crates you can paint up, cement bricks that can be decked out with Rust-Oleum or sealant and then used as small tables for lamps.
And, for something you can sit on, try bean bags, lawn chairs, and a mountain of throw pillows. Kids love:
bright colors and;
sitting on the floor.
It almost doesn't matter how much you spend on this stuff. If it's brightly colored, is painted in the theme of your child's favorite T.V. or book character or somehow is reflective of your child's values, she will love it.
New Bedding
New bedding is tricky, because bedding can be really expensive – no way around it. But, if you're handy with a screen printer, or you want to go off the beaten path a little bit, you can buy plain white sheets and do some screen printing or dying. Otherwise, keep your eyes peeled for sales and coupon codes to get a great deal on kids bedding in stores like Target.
Accent Walls and Colors
Who doesn't love accents? Paint one wall a bright color of your child's choice or try to incorporate a neon accent or something else that's totally crazy to make the room pop.
Paintable Chalkboard or Whiteboard
This is probably one of the coolest ideas we've ever seen for a child's room. Rather than discourage them from writing on the walls, encourage it, within a certain context. It's OK to write on walls when your wall is a blackboard or whiteboard.
There are paints you can buy at the hardware store that will easily turn your wall into a whiteboard or chalkboard surface. You'll let him or her explore their creative side without ruining the walls.
Modern Wall Art
You can modernize any kids room with new wall art like this adorable 'To Live' Print & DIY Frame Kit on sale for 50% off on Zulily today! Assemble this ready-to-hang wall art with this simple kit. The minimalist frame offers modern style, while the print's playful design brings your child's imagination into the home.