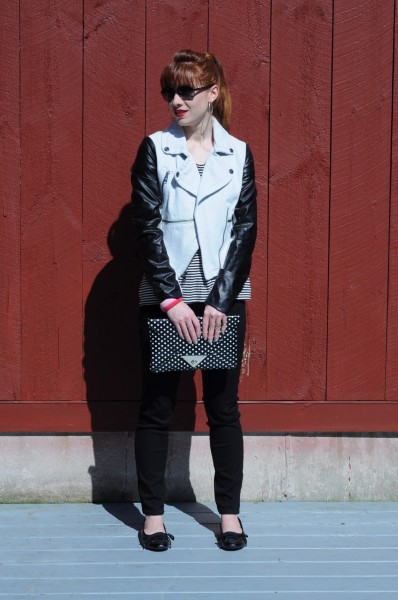 If you are busy mom, like me, you are probably thinking about getting spring and summer clothes for your Kids but have completely forgotten about updating your OWN wardrobe for the impending warmer weather. It's time to take a few minutes to think about yourself, but luckily, we've done most of the thinking for you.
Below, you'll find a list of the items you should grab to update your wardrobe for spring. No thinking required, just click and buy!
White Jeans
White jeans are a must for spring and summer, especially this year. Look for higher waist styles with skinny legs for evenings and destructed boyfriend styles for every day wear.

Be sure to check out Macy's coupons on Groupon to save even more on these hot styles!
Slip On Sneakers
Everyone is wearing them, regardless of age. Why wouldn't you want to jump on this comfortable and easy to wear trend? So many cute slip on sneakers to choose from! Here are a few of my favorites though…

Denim Jacket
If you already own a denim jacket, by all means, dust that baby off and start rocking it because a sweet denim jacket is an absolute must-have for this season. If for some reason, you don't already have a great little denim jacket, here are a few chic ones to choose from…

Don't forget to hit up Groupon for Kohls promos and coupons before checking out!
Ponte Knit Leggings
These are the grown up version of leggings that you can actually wear as pants. Not this thin, partially see through, show-all-your-cellulite-off leggings that everyone seems to be wearing. Don't be THAT girl! Get some grown up leggings that are made from a thicker material, almost like jeans, making these a great choice for busy moms who want to be comfortable, yet appropriate!

Be sure to check out Groupon for Nordstrom coupons to get free shipping on your order!
Which one of these must-haves will you be getting? Tell us in the comments!