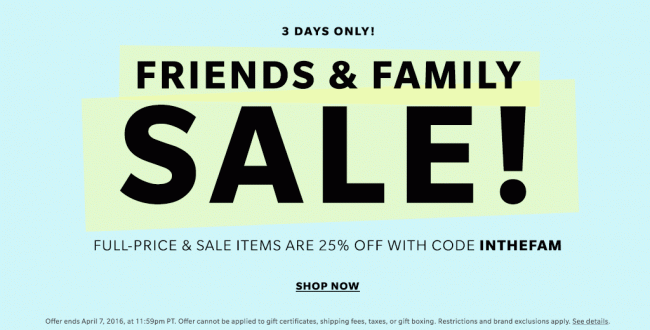 If you missed out on the last Shopbop sale, no worries because this one is even better! The Shopbop Friends & Family sale is happening right now through April 7th. You can get a whopping 25% off full price AND sale items with coupon code INTHEFAM.
We know you probably already have a few items on your wishlist or pinned on your Pinterest board that you'd love to get, but I have a few suggestions below just in case.
Now is the time to #treatyoself mama! Spring is coming so grab a couple of these wardrobe essentials to update your wardrobe. These easy to wear pieces will go with all your jeans and shorts from now till next Fall.
Stripes

Sandals & Slipons

Cropped Flared Jeans

Spring and Summer Accessories

Grab as much as you can during this sale because you don't know when Shopbop will have another sale! 25% off is a huge discount from Shopbop so stock up!
Click here to shop the sale now!
* The Fashionable Housewife occasionally receives vendor/ brand sponsorships for mentioning their products and services.